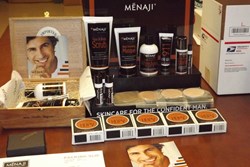 It brought to life a case study which has enabled them to really know and understand this company, their brand, and business.
Southport, CT (PRWEB) December 23, 2013
Headquartered in Southport, CT, Mënaji Worldwide, LLC. owns Mënaji Skincare a product line of men's grooming products which has served as the brand case study for an advanced advertising class this semester at Fairfield Ludlowe High School. Students had the opportunity to visit both the Mënaji Worldwide. local fulfillment /warehouse facilities and corporate offices as part of their course education.
"For several years we have worked with the local high schools as well as Fairfield University offering spring term and summer internships. We very much like including students whenever we can and when Stefanie Cole, teacher of the advertising class asked if we wanted to be a case study, we were delighted and said YES!" said Pamela Viglielmo, one of the principals of Mënaji Worldwide, LLC.
The day included a morning visit to Clarke Brothers, Inc., Mënaji's fulfillment/warehouse partner in Milford, CT, operated by John and Rob Clarke, second generation owners. The class of 15 plus students learned how Mënaji Skincare products are stored and shipped to customers globally. During their time at the facility, they witnessed order processing, assembly line work, and the "kitting process." John Clarke who hosted their visit said, "For my brother and me, it was a lot of fun. We had the chance to talk about what we love and have been doing all our lives. We know the backend of shipping; these kids had never seen how products are put together and shipped. I think that they will always look at a package a bit differently from now on!"
The students then traveled by school bus to Mënaji's offices at 762 Kings Highway West where they participated in a focus group, reviewed upcoming advertising and marketing materials and even had the chance to work with Mënaji Skincare products by having their own one-on-one consultation and "man make-overs" so they would know how to use men specific products just like the media pros on TV or other well-groomed men. Lastly, they also were able to hear from Mënaji Skincare Founder Michele Probst who called in from Nashville to welcome the students and told them to "always follow your dream."
"This field trip has enabled my students to see firsthand what they had, up until now, only learned about in class. To be able to see people working an assembly line, or hear of the many steps involved with international shipping was fascinating for them. And to spend time at the corporate offices with the Mënaji Skincare team was just great for them. It brought to life a case study which has enabled them to really know and understand this company, their brand, and business." This class will conclude its semester long study of Mënaji Skincare products early in 2014 and will "pitch" their project to a panel of executives from Mënaji Worldwide and school administrators. Five teams from the class have created creative concepts that Mënaji will look to include in future marketing plans.