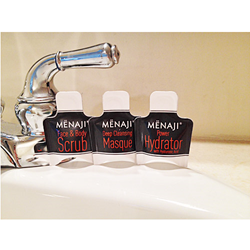 We look forward to providing these prestige packaged skincare samples to customers through our retail, etail, and DTC partners.
(PRWEB) September 16, 2014
Mënaji Skincare announces new Pro Sample Packs. Customers can now try three great products - Face & Body Scrub, Deep Cleansing Masque, and Power Hydrator free with any purchase and available while supplies last. The packages are manufactured by leading environmental packaging experts Xela Pack.
"We are excited about our new Mënaji Skincare sampling program and the package design and materials that we selected," stated Pamela Viglielmo, Chief Operation Officer of Mënaji Worldwide, LLC. "These sample packets are masculine looking reflecting the Mënaji brand as well as environmentally responsible -- two attributes important to our sophisticated male customers. We look forward to providing these prestige skincare samples to customers through our retail, etail, and DTC partners."
The Face & Body Scrub is an advanced formula designed specifically for men, using a natural and unique blend of ingredients that include lime peel oil, jojoba, ginseng, kelp, azulene and aloe.
The Deep Cleansing Masque is a skin treatment for men offering a deep clean to absorb oil, exfoliate dead skin and reduce pore size.
The third sample is the Power Hydrator, a lightweight lotion consisting of chamomile, green tea, grapefruit peel, vitamin E and aloe. Hyaluronic acid increases skin's moisture level, minimizes wrinkle lines, and promotes healthy skin with all-day protection.
Mënaji's products, which include HDPV Anti-Shine Powders and CAMO Magnum Concealers constitute best-selling skincare and cosmetics in one of today's most widely recognized family of men's grooming brands. Mënaji Skincare provides men's grooming products to ensure that men can always look and feel their very best. All products are USA-designed, formulated, and manufactured, and meet The Safe Cosmetics Alliance manufacturing code. Select distribution includes premium department stores, and independent prestige brick and mortar establishments. Mënaji is headquartered in Southport, CT with offices in NYC and Nashville, TN.