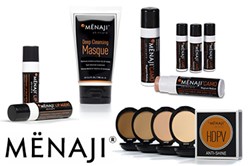 "the Nordstrom customer is a wonderful fit for the unique product mix Menaji Skincare offers"
Southport, CT (PRWEB) December 15, 2013
Mënaji Skincare announced the addition of their latest retail location, Nordstrom The Grove in Los Angeles, CA. to their list of premium retailers. This expansion comes on the heels of Mënaji's recent launch in Nordstrom's Miami Aventura and Houston Galleria locations. In addition, Mënaji's product line is available in Nordstrom's Nashville store and through Nordstrom's online retail store at Norstrom.com.
"We are very excited about our recent growth with Nordstrom in LA as well as Houston and Miami," says Founder Michele Probst. "Nordstrom is a key partner in the national distribution of our American-manufactured brand." Probst will be onsite at Nordstrom The Grove on December 16, 2003 in Men's Sportswear.
A recent article in MarketWatch which profiles Mënaji Skincare, says the market for men's personal-care-products has grown since 2008 by as-much-as 15% to $3.9 billion. Projections for this market are expected to exceed 13% growth by 2018. Mënaji Skincare's line includes a Face and Body Scrub, Deep Cleansing Masque, 911 Eye Gel, Eraser, Aftershave Hydrator, Lip Balm Agent, and their signature cosmetic products – CAMO Concealer and HDPV Anti-Shine Powder.
COO, Pamela Viglielmo, says, "the Nordstrom customer is a wonderful fit for the unique product mix Menaji Skincare offers," adding that "both companies are positioned for growth in the booming men's grooming category, which continues to expand."
About Mënaji Skincare
Michele Probst founded Mënaji Skincare after twenty years of experience in TV, film, video, fashion, and music industries. Her clients have included, Aaron Neville, Al Gore, Barack Obama, Bryan Batt, Chris Matthews, Enrique Inglesias, Jay Leno, Kid Rock, Larry King, Neil Young, Stevie Nicks, Tim McGraw, Tom Brokaw and many more. Her specialty is making her celebrity male clients look youthful and natural without looking made-up.
Mënaji Skincare includes natural grooming, skincare and undetectable cosmetic.
All products are formulated with the expertise of Michele and a team of dermatologists and chemists to focus on and enhance the natural healing properties of men's skin. "Healthy skin looks best Probst says. So, put your best looking face forward with Mënaji Skincare's all natural, undetectable products. Remember, the face is the first thing you look at, so take it seriously."