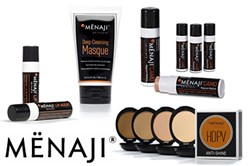 The face is the first thing you look at, so take it seriously.
Southport, Connecticut (PRWEB) December 05, 2013
Mënaji Skincare enters the Connecticut retail market with an introduction of their men's skincare line at Indulge By Mersene in Westport, Connecticut.
Known as a shop filled with a treasure trove of whimsical and practical gifts, Indulge By Mersene takes great pride in creating special gifts at any price point for all occasions. Mënaji Skincare adds freshness to the unique line of products carried at the store.
"I'm thrilled to have the opportunity to carry the Mënaji brand. These exceptional products are a great compliment to our gift selections for men", said Mersene Norbom, the owner of Indulge by Mersene, in her shop located at the train station in Westport.
Indulge by Mersene will carry the full line of men's skincare, that includes a Face and Body Scrub, Deep Cleansing Masque, 911 Eye Gel, Eraser, Aftershave Hydrator, Lip Balm Agent, and their signature cosmetic products – CAMO Concealer and HDPV Anti-Shine Powder.
The store's unique location at the Saugatuck Train Station offers commuters a great way to shop and place orders for gift baskets that can be picked up on the return home. The store also provides makeup styling on site for women who are headed into New York City for events. Now with the addition of the men's cosmetics line by Mënaji, male commuters can take advantage of the same opportunity.
Michele Probst founded the Mënaji skincare line of products after twenty years of experience in the fashion photography, television, film and video industries. Her clients have included, Aaron Neville, Al Gore, Barack Obama, Bryan Batt, Chris Matthews, Enrique Inglesias, Jay Leno, Katie Couric, Kid Rock, Larry King, Neil Young, Stevie Nicks, Tim McGraw, Tom Brokaw and many more. Her specialty is making her celebrity male clients look youthful and natural without looking made-up.
Mënaji products were formulated with the expertise of Michele and a team of dermatologists and chemists to focus on and enhance the natural healing properties of men's skin. "Healthy skin looks best," Probst says. "So, put your best looking face forward with Mënaji Skincare's all natural, undetectable products." The face is the first thing you look at, so take it seriously.