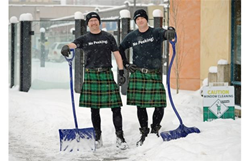 Adding on this service is a great way to ...help our customers out - Nicholas Brand, Founder
Vancouver, BC (PRWEB) October 30, 2014
The weather is changing and winter is on its way, but the good news is that several Men In Kilts locations will begin offering snow removal service to help customers get through those blistery winter months; and yes, they will still wear their kilts while clearing snow.
Men In Kilts Founder Nicholas Brand says, "Snow Removal is a really great service to provide because several of our locations get some pretty severe weather conditions in the winter months. Adding on this service is a great way to keep these locations busy throughout the winter, and help our customers out."
Another service being offered in many locations this year is Christmas light installation. Not only will the kilted Technicians install the lights, but they will also remove the lights at the end of the holiday season.
Men In Kilts CEO Tressa Wood says, "We are all about helping homeowners complete jobs that they don't have time to do, and sometimes shouldn't be doing themselves. Climbing and manoeuvring ladders to hang Christmas lights can be a pain, but it can also be dangerous if you do not know what you are doing."
In the United States the Consumer Product Safety Commission said, "Reports of falls from ladders while stringing lights and hanging decorations… and other holiday-related injuries are increasing." The report went on to state that "During November and December 2010, CPSC estimates that more than 13,000 people were treated in emergency departments nationwide due to injuries involving holiday decorations."
Sometimes these incidents might result in a couple of bruises or scratches, but in other cases injuries may be much more serious and include broken bones, fractures or worse.
Why take the risk of hurting your back shovelling snow or climbing a ladder to hang lights when Men In Kilts can help? Call 1-800-777-5458 for a free estimate in minutes or to book service before the schedules fill up.
-30-
About Men In Kilts
Men In Kilts was started in 2002 by Nicholas Brand, a Vancouver based Scotsman who fashioned a hand-sewn kilt and put a visual to the otherwise faceless window cleaner.
By 2009, the location had grown to over one million in revenue and caught the attention of Tressa Wood, former VP of Operations from 1-800-GOT-JUNK?. Tressa joined the team as CEO and began the process of franchising the company. Men In Kilts now has locations across North America and plans to expand to every major metro by 2017.
Positioned to serve the growing demands of the multi-billion dollar cleaning and building maintenance industry, the Men In Kilts concept is about building a national brand that delivers an unparalleled level of professional service to both the residential and commercial markets.
For more information on Men In Kilts, or to see them in action, please contact Megan Nemeth at pr[at]meninkilt[dot]com or visit http://www.meninkilts.com.
--high-resolution images available upon request--