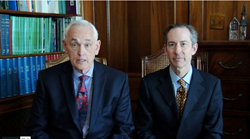 Taos, New Mexico (PRWEB) May 01, 2014
The New England Journal of Medicine (NEJM) concluded in a recent article titled, "Arthroscopic Meniscectomy Versus Sham Surgery for a Degenerative Meniscal Tear", that "arthroscopic partial meniscectomy is of no value." In the May issue of Arthroscopy: The Journal of Arthroscopic and Related Surgery, an editorial and two level five-evidence articles compare arthroscopic meniscectomy and knee sham surgery. Through their analysis, Arthroscopy concludes that the NEJM "got it wrong" and, in fact, arthroscopic partial meniscectomy has revolutionized the way physicians are able to treat symptomatic meniscal injuries.
Both Arthroscopy and the NEJM, recognized internationally as prestigious peer-reviewed medical journals, serve as thought leaders in the field of medical research. With all published research, questions and controversy arise and controversy demands debate. Through Arthroscopy's analysis, it was found that the NEJM had several methodological flaws in their study of arthroscopic treatment of mensical injuries.
Arthroscopy's in-depth analysis concluded that the methodological flaws in this NEJM study led by Dr. Raine Sihvonen of Finlind included: inclusion and exclusion criteria, low population size, and conclusions that were not supported by the data or design. Further statistical analysis highlighted that the study was designed to detect differences between preoperative and postoperative functional scores, but not structured to detect statistical differences between two study groups. Furthermore, since 2000, the NEJM has only published four original scientific articles on knee arthroscopy and each concluded to "negative" results. This history has raised the question of bias against arthroscopic knee surgery.
Knee arthroscopy, including partial meniscectomy, is the most common orthopedic procedure to date. Due to the prolific status of knee arthroscopy, many researchers have conducted evidenced-based research with positive outcomes. Editor and Chief of Arthroscopy, James Lubowitz MD encourages readers to "read the articles and reach your own conclusions."
About Dr. James Lubowitz
Recently appointed Editor-in-Chief of the Arthroscopy Journal, Dr. James Lubowitz is a leading orthopedic surgeon specializing in knee arthroscopy. With his New Mexico offices in Santa Fe and Taos, Dr. Lubowitz serves the greater Albuquerque area. He is recognized for his research analyzing knee injuries which has led to the development of innovative minimally invasive reconstruction techniques. At the 2013 Annual Meeting for the Arthroscopy Association of North America, Dr. Lubowitz presented his research findings on a less invasive ACL reconstruction technique. This innovative reconstruction technique resulted in equivalent knee stability with evidence-based less pain then other common techniques used today.