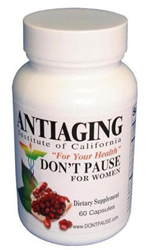 Beverly Hills, CA (PRWEB) April 23, 2014
AntiAging Institute of California is now offering a promotion on DON'T PAUSE. Women can buy two bottles of DON'T PAUSE and receive a complimentary third bottle. Symptoms of menopause often first appear when a woman enters her 40s. The average age for menopause for American women is 51, but symptoms can begin much earlier and then continue throughout the lifetime. These symptoms can range in type and severity from woman to woman and even from day to day. Natural treatments can help alleviate symptoms such as menopause depression and menopause weight gain.
Menopause symptoms tend to be linked directly to the hormonal changes of menopause. Women may begin to experience menopause irritability throughout the perimenopause period, which occurs in the months and years leading up to menopause. As their periods become more irregular and eventually stop, women may also begin to experience vaginal dryness, vaginal atrophy and irregular periods menopause, which can affect their relationships and self-confidence. Treatments can include a variety of lifestyle changes and natural supplements.
A balanced diet and regular exercise can be great choices for any stage of life but are particularly beneficial for menopausal women. Women who smoke or drink heavily may need to consider quitting or cutting back since both habits tend to aggravate symptoms. Caffeine, spicy foods and hot drinks such as coffee and tea may also trigger certain symptoms and need to be used in moderation.
Women may need to adjust their daily routine and use heavier moisturizing lotions to keep skin dryness at bay and vaginal lubricants to ease vaginal discomfort. Adding several stress-reducing workouts such as yoga and Tai Chi to their normal exercise routines can help women better manage their weight, stress and menopause-related depression. Natural supplements such as DON'T PAUSE offer women additional support for managing their menopause symptoms and can help keep hormones steady throughout this time of change, resulting in fewer symptoms and less intense symptoms.
DON'T PAUSE has been designed to address the 45 symptoms of menopause, which were identified by Dr. Shoreh Ershadi. It is made by the AntiAging Institute of California, which offers an extensive selection of herbal supplements designed to promote good health throughout life, and contains a special blend of natural and herbal ingredients to provide maximum symptom relief.