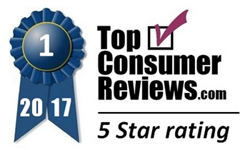 If you're looking for a menopause product that is all-natural and effective, Menopol is an excellent choice.
Overland Park (PRWEB) July 19, 2017
TopConsumerReviews.com recently gave a best-in-class 5-star rating to Menopol, a leader among Menopause products available for purchase online.
Every day, millions of women are impacted by the symptoms of menopause. These effects can include irritability, night sweats, hot flashes, anxiety and mood swings. In the past, menopause was often treated with Hormone Replacement Therapy (HRT); however, concerns have increased over the likelihood of developing uterine and/or breast cancer as a side effect of HRT. For this reason and others, many women are turning to natural, non-prescription remedies to address their menopausal symptoms without the costs and risks associated with prescription-based options.
"If you're looking for a menopause product that is all-natural and effective, Menopol is an excellent choice," according to Brian Dolezal of TopConsumerReviews.com, LLC. "Delivered in an easy-to-swallow capsule, Menopol's all-natural ingredients include Vitamin E, Black Cohosh, Sage Leaf, Hesperidin and St. John's Wort, which target mood disturbances, low estrogen levels, and more. Affordably priced and with options for free shipping, Menopol makes it easy for women to get relief for their menopausal symptoms. And, a 60-day satisfaction guarantee means that trying this product is practically risk-free. Menopol earns our top rating among menopause products in 2017."
To find out more about Menopol and other Menopause products, including reviews and comparison rankings, please visit the Menopause category of TopConsumerReviews.com at http://www.topconsumerreviews.com/menopause/.
About Menopol
Menopol is part of the HelloLife brand, an Applied Life Science and Technology company doing business in the fields of health and wellness. The company operates under Good Manufacturing Practices (GMPs), which allow total documentation of all processes, from production to distribution ensuring consistency and high quality. Headquartered in Grand Rapids, Michigan, HelloLife is committed to providing safe relief, nutritional support and education for healthy lifestyle choices.
About TopConsumerReviews.com
TopConsumerReviews.com, LLC is a leading provider of independent reviews and rankings of hundreds of consumer products and services. From Menopause products to Cellulite and Anti-Aging Creams, TopConsumerReviews.com delivers in-depth product evaluations in order to make purchasing decisions easier.