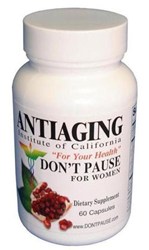 Beverly Hills, CA (PRWEB) August 09, 2013
The AntiAging Institute of California now offers DON'T PAUSE to provide women with natural menopause relief. DON'T PAUSE is an all-natural herbal supplement that can help combat some of the most common menopause symptoms and restore healthy balance and aging.
Hormones often fluctuate slightly throughout a woman's lifetime. She may experience dramatic surges of hormones during puberty and fluctuations during menstruation and pregnancy. These hormonal fluctuations can trigger symptoms of bloating, irritability and physical discomfort. As menopause nears, hormones begin to fluctuate and decrease as the ovaries cease functioning. Women may experience symptoms similar to those they experienced during pregnancy or their menstrual cycles, and they may have additional new symptoms.
Irregular periods, bloating, breast tenderness and irritability are all common during menopause. Women also frequently experience hot flashes, night sweats, insomnia, urinary incontinence, aching joints, weight gain around the abdomen and fatigue. These symptoms can be severe and interfere with a woman's normal daily activities. A natural menopause treatment product can help alleviate the discomfort and help women get back to their favorite activities without discomfort.
Herbal menopause cure products can include ingredients such as black cohosh and soy isoflavones, which specifically target the underlying cause of menopause symptoms by restoring a healthier balance of hormones. Both black cohosh and soy isoflavones have been studied extensively and shown to help decrease the incidence and severity of hot flashes and similar symptoms. Other ingredients that can provide natural menopause relief include pomegranate, green tea extract, and DHEA. These ingredients target hot flashes and other symptoms and often work together to help restore energy, decrease fat storage and promotes overall health.
Women often turn to natural menopause remedy products to help alleviate their discomfort. Lifestyle changes can also provide women with relief from menopause symptoms. Regular weight-baring exercise can help them keep their bones strong and their waistlines trim. Stretching exercises such as yoga or Pilates can help relieve tension and maintain flexibility. A healthy diet with fruits, vegetables, whole grains, lean protein, heart healthy fats and low-fat dairy can provide a woman's body with the nutrients it needs.
Press Release Submitted by avitalweb.com
Kevin Neman
(818) 205-9300