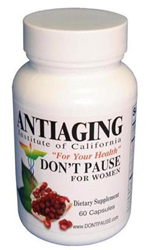 Beverly Hills, CA (PRWEB) July 21, 2014
The AntiAging Institute of California is now offering a special promotion on DON'T PAUSE for Menopause. DON'T PAUSE is a natural menopause supplement that has been designed to tackle numerous menopause symptoms by promoting proper function at the cellular level and by restoring healthy balance in the hormones. It uses only essential vitamins, powerful antioxidants and natural herbal ingredients and can help ease or reduce the frequency of 45 different menopause symptoms, including menopause burning tongue, bleeding gums, dry eyes, swollen gums menopause and painful joints.
This special has a value of more than $25, and those who buy two bottles of DON'T PAUSE will get a third at no charge. Each bottle contains 60 capsules, which is a one to two month supply. Women who are in perimenopause, or the initial stage of menopause, can take a single capsule daily. Women who have completed menopause may need to increase their dosage to two capsules daily to ensure relief from hands tingling menopause, dry skin, vaginal atrophy and forgetfulness menopause.
DON'T PAUSE can be used alone or in conjunction with healthy lifestyle habits. Monitoring and tracking symptoms can help women identify triggers. Common triggers can include caffeinated beverages, alcohol and smoking. Women may need to cut back on these substances or quit altogether. Women also may notice an increase in some symptoms after eating spicy or highly seasoned foods or drinking hot beverages and may need to avoid them, too. Regular, moderate exercise can help maintain bone mass and reduce weight gain, which is extremely common after menopause.
While no one treatment or lifestyle change is necessarily right for every woman, DON'T PAUSE is designed to meet a wide range of symptoms in women at each stage of menopause and alleviate and reduce even the worst menopause symptoms. Its natural formula is gentle on a woman's body without the risk of unwanted side effects. The AntiAging Institute of California and Dr. Shoreh Ershadi have worked tirelessly to create a range of natural products that promote healthier aging and a life without unwanted symptoms.