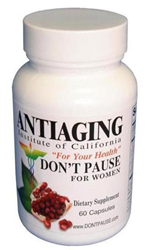 Beverly Hills, CA (PRWEB) May 21, 2014
The AntiAging Institute of California is now offering a special promotion on DON'T PAUSE. For a limited time, women can buy two bottles of DON'T PAUSE and get a complimentary third bottle. This is a substantial savings of more than $25 and provides women with a three to six month supply of the popular menopause supplement.
DON'T PAUSE uses all-natural ingredients to alleviate the 45 symptoms of menopause, as identified by Dr. Shoreh Ershadi. Herbs can help alleviate the hormonal fluctuations that are largely responsible for the symptoms of menopause. Antioxidants and other critical nutrients work together to promote healthier overall functioning. This complementary blend of ingredients can give women a powerful boost during what is often a difficult time filled with menopause forgetfulness, anger menopause, irritability menopause, menopause irrational thoughts and a wide range of other physical and emotional menopause symptoms.
Women can use the nutritional support of DON'T PAUSE alone or in conjunction with other healthy lifestyle changes. Good sleeping habits, regular exercise, a balanced diet and stress reduction can all play a role in the way a woman confronts menopause. Specific symptoms, such as depression and dark thoughts, may respond well to yoga and Tai Chi, which provide women with an outlet for their negative feelings. Muscle and bone loss can be avoided with good exercise habits that include both cardiovascular exercises and strength training. A well-balanced diet can ensure women get adequate nutrition to meet their changing needs and promote brain and body health. Adopting a healthy lifestyle that includes DON'T PAUSE can not only alleviate menopause symptoms but may also promote a lifetime of healthier function.
The AntiAging Institute of California is committed to finding solutions that fit people's lives. They offer nutritional supplements and a wide range of natural treatment options that can promote healthier aging and overall well-being, including DON'T PAUSE, its popular menopause supplement. The Institute also offers Green Coffee Bean Extract to stimulate weight loss and Enhanced FUNCTION for Men, which can restore sexual function. Natural supplements can be used alone or as part of a healthier lifestyle regimen for enhanced results.