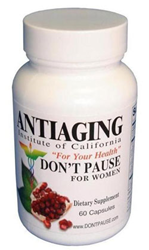 Beverly Hills, CA (PRWEB) June 20, 2014
The AntiAging Institute of California is now offering a DON'T PAUSE special promotion. For a limited time, those who buy two bottles of DON'T PAUSE will receive a third bottle at no charge. This special has a value of more than $25 and provides women with three to six months' worth of natural menopause relief. DON'T PAUSE is an all-natural herbal supplement that includes essential vitamins and powerful antioxidants to provide women with incomparable relief from their worst menopause symptoms, including menopause hot flashes without any unwanted side effects.
DON'T PAUSE has been formulated to address all 45 of the symptoms of menopause, which were identified by Dr. Shoreh Ershadi, who recently presented her book on the topic at the 8th Annual World Congress of Anti-Aging Medicine and Regenerative Biomedical Technologies Expo in Beijing. It can help alleviate the most common symptoms of menopause, including rapid heartbeatsmenopause, hot flashes, dry skin, night sweats menopause, mood swings and menopause digestive problems.
Managing symptoms often requires a multi-pronged approach. Women may need to track their symptoms for a few weeks to identify any potential triggers. They may also need to change their lifestyle. Alcohol and caffeine should be limited, and if women use tobacco, they need to begin a smoking cessation program that helps them kick the habit. A balanced diet and regular exercise combat not only the hormone swings of menopause but also the stress and anxiety that often accompany menopause symptoms. DON'T PAUSE can work with these lifestyle changes or alone to balance hormones and restore healthy function.
The AntiAging Institute of California offers DON'T PAUSE along with other natural and herbal products and nutritional supplements to counteract common age-related health issues, including menopause symptoms, weight gain and erectile dysfunction.