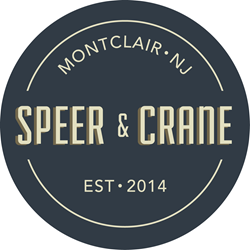 We are excited to interact with our customer base and work with Bangz on this event.
(PRWEB) April 28, 2015
Speer & Crane (http://speerandcrane.com ) opened their doors in downtown Montclair in October of 2014. Their grand opening was a huge success and even had local artist, Al Johnson (http://www.aljohnsontheartist.com ), feature his artwork for viewing and purchase at the event. Their unique style and inventory has made them stand out among the many storefronts in Montclair. Their premium cigars, cuff links, fedoras, wine accessories, ties, PAX and Atmos products instantly created a buzz in the emerging town and even earned them a spot in the "The Gentlemen's Holiday Gift Guide" on Baristanet.com.
After launching their company website, Speer & Crane is ready for the Spring Fever surrounding the charming town of Montclair. Activity in Montclair circle has been on the rise since being voted as a "2015 Great American Street" in the U.S (http://bit.ly/1EWpHIy ). As soon as the weather broke Speer & Crane embraced the heavy traffic at their storefront. Co Owners, Jim and Chris were thrilled at the welcoming reception from the local crowd. "We really feel at home here in Montclair. We've lived in north Jersey all of our lives and are ecstatic that we have the opportunity to offer our customers the ultimate destination for exclusive gentlemen's accessories, cigars, and classic necessities. Our inventory here is like none other and that uniqueness has been embraced by our visitors at our new storefront. Online users can also still visit the company website for money saving promo codes throughout the year and holiday season."
Speer & Crane has also announced that they will be a featured vendor at The Men's Confidential Event located at Bangz Hair Salon and Wellness Spa on May 31st at 6pm. Bangz (http://www.bangz.net ) is located right across from Speer & Crane's storefront at 23 South Fullerton Ave. in the heart of Montclair. Speer & Crane will feature items for purchase at the event. The event will be hosted by Bangz Manager, Israel Cronk, or better known as "Izzy" to the Montclair regulars. Speer & Crane look's forward to the upcoming event. Jim Alamia states: "We are excited to interact with our customer base and work with Bangz on this event. This will be the ideal way for our locals to see what Montclair has to offer the perfect gentlemen and how they can improve their style, their mood, and their leisure with our exclusive line of men's accessories."