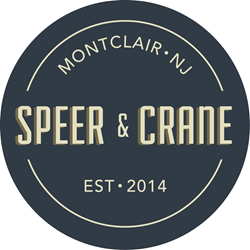 Speer & Crane has announced that they will be appearing at the Men's Confidential Event on May 31st.
(PRWEB) May 26, 2015
In less than a year, Speer & Crane (http://speerandcrane.com ) has easily become the premier destination in historic Montclair, NJ, for gentlemen's accessories including fedoras, cuff links, exclusive socks and ties, high-end lighters, and premium cigars. They have even established themselves as a retailer for products like PAX and Firefly. Since their opening in October 2014, Speer & Crane has satisfied many customers with their selection of Happy Socks, which earned them a spot in the Gentlemen's Holiday Gift Guide on Baristanet.com. After the success of their first holiday season, Speer & Crane soon got the attention of TV 34 in Montclair.
Owners Jim and Chris of Speer & Crane were recently interviewed by Robin Woods on the "Robin's Nest" show on Comcast/FIOS TV 34 in Montclair (http://bit.ly/1FnSwLJ) . Jim of Speer & Crane commented on their recent television appearance, "We were thrilled that we were featured in Robin's Nest. It really gave us a chance to connect with our local audience and help them put a face to a name that will become a staple in the heart of downtown Montclair. There really isn't any other storefront like Speer & Crane that nails gentlemen's attire and accessories. We look forward to helping our customers become true gentlemen, or at least help them look the part." In addition to their appearance on "Robin's Nest" on Comcast/FIOS TV 34, Speer & Crane has another appearance already in place for late May. Speer & Crane prepares for Father's Day in June and is also giving customers a 10% discount if they mention "Robins Nest TV34" upon purchase in the store.
Speer & Crane has announced that they will be appearing at the Men's Confidential Event on May 31st. The event is set to take place at Bangz Hair Salon and Wellness Spa (http://www.bangz.net ) located at 23 South Fullerton Avenue in Montclair, which is across the street the from Speer & Crane's storefront. The event kicks off at 6pm where vendors, including Speer & Crane, will have items available for purchase. Speer & Crane has also announced that they have updated their company website. Online users can now sign up for money saving promo codes on the new home page by entering an email address. Jim of Speer & Crane states: "We couldn't be happier to work hand in hand with our neighbors, Bangz, in Montclair on this event. After being named one of America's Best Streets of 2015, we expect that many of our fellow small business owners will have many new visitors to look forward to, and the Men's Confidential Event is the perfect way for locals to discover our new business."