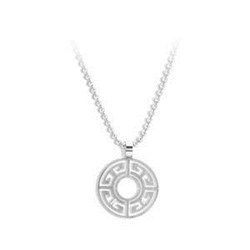 Las Vegas, NV (PRWEB) December 31, 2013
Inspired Silver has announced that it will be offering yet another beautiful necklace as part of its jewelry the line: The Men's Celtic Pendant.
The pendant, which is made from stainless steel, hangs from a 24-inch chain that is included with the purchase of the pendant.
"We are very pleased with the way that this pendant turned out, and we expect it to be a very popular item for us," said a representative with Inspired Silver. "It is a very unique design that plays upon those traditional Celtic elements."
As with all Celtic designs, there is usually a specific meaning behind each symbol. In the case of this Men's Celtic Pendant, the symmetrical design seems to indicate a symbol of balance, though the company believes that symbolism is in the eye of the beholder.
"We feel that any design lends itself to the interpretation of each individual," said the representative. "Every person sees things a little differently, and it could have a different meaning to different people. Where one person sees the balance from the symmetrical design, another may see a maze that indicates the journey we are on in our own lives. Really, I see it as open to interpretation."
Regardless of its potential meaning, the necklace and pendant are quite striking and should sell very well for the company. Inspired Silver has established itself as a company with an outstanding reputation for producing high-quality and reasonably priced jewelry. It seems that this continues to be the case with the release of this Men's Celtic Pendant.
"It has always been our goal to produce beautiful pieces of jewelry that are also very affordable," said the representative. "This piece in particular is certainly emblematic of our mission to provide our customers with beautiful jewelry at reasonable prices."