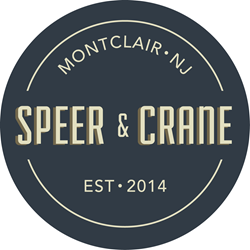 (PRWEB) October 15, 2014
Anyone who has been in downtown Montclair, near Montclair State University, knows that the historic town is filled with unique restaurants, trendy clothing stores, and fun concert venues that draw in some of the country's best bands and comedians. For a good part of the summer, there has been a little blank spot right in the heart of downtown Montclair where no merchandise or clothes are being bought, and no music is being played. That is because the place has been vacant and the locals are dying to know what new shop will be opening in the fall.
Route 72 Internet Marketing (http://route72.com) has announced that the locals of Montclair do not have to wait any longer. The new shop will be called the Speer & Crane (http://speerandcrane.com). Route 72 has already signed on to be the marketing partner for the new business as it is set to have its "soft opening" on Friday, October 17th at 12 Noon. The business will specialize in providing cigars, vaporizers, and gentlemen's accessories that include fedora hats, ties, bow ties, and wine accessories to name a few. Jim Alamia, Founder and CEO of Route 72 Internet Marketing, is thrilled about the opening of Speer & Crane. He commented about Montclair's newest retail storefront, "There is really no other place like this in downtown Montclair. We are pleased to see a retail business that specializes in gentlemen's accessories like this in such a historic and fun town like Montclair, New Jersey. This is exactly what this town has been missing and we are confident that it will be the perfect fit for the town and we couldn't be happier to help get the word out about Speer & Crane."
In addition to the storefront located at 22 S. Fullerton, Speer & Crane has announced that they will be launching a company website before Thanksgiving. The site will contain pages on all of their merchandise and the ability for customers to ascertain promotional codes. No further details of their online presence have been revealed at this time. Speer & Crane has also teamed up with Bindo Point of Sale system (http://bindopos.com). Chris Albanese of Speer & Crane states, "We looked at many solutions and Bindo had what we needed to get this business off the ground. We don't have time to deal with a disjoined POS system. Bindo gives us what we need to operate the retail business easily."
The company is planning on having a grand opening event on or about Thanksgiving 2014. Customers that mention the press release will get 5% off on any purchase for a limited time.