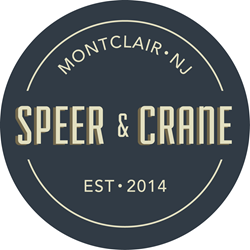 (PRWEB) December 29, 2014
Speer & Crane has been branded as a men's dream closet. Jim and Chris have been very selective to ensure they offer quality and variety. The store features fedora hats by Goorin Brothers, ties and bow ties by General Knot & Co. Men's accessories such cufflinks, touch screen winter gloves and wallets to name a few from MenInCities. Speer and Crane also has a large variety of wine accessories and premium cigars in their specialized inventory. To top it off they have an array of unique items such as the Pax, Davinci, Firefly and Atmos products.
Route 72 Internet Marketing (http://route72.com ) has been spreading the word about the new Montclair Haberdash store. "We plan on having 'Art with Al Johnson' during the winter months where art lovers and visitors can meet Al Johnson and view his artwork in the store," said Jim Alamia, owner of Route 72.
Speer & Crane was also recently interviewed and featured on Baristanet.com article "The Gentleman's Holiday Gift Guide". The company featured the stores Happy Socks Collection which sells out very frequently. (http://baristanet.com/2014/12/gentlemans-holiday-gift-guide)
Speer & Crane recently teamed up with neighbor Bangz Hair Salon and Wellness Spa (http://www.bangz.net ) located across the street at 23 S. Fullerton Ave. Bangz salon is the oasis for mind, body and soul. Bangz clients will receive 20% off all merchandise at Speer & Crane (must be redeemed with a receipt from Bangz same day).
In addition to the storefront located at 22 S. Fullerton Ave. in the heart of Montclair, Speer & Crane has launched their company website located at (http://speerandcrane.com ). The site contains pages on all of their merchandise and the ability for customers to get money saving promotional codes that can be redeemed in the physical store.
Speer & Crane is currently open for business. The store ties the history of Montclair into cool classic necessities that Men truly enjoy. Holiday shoppers can still take advantage of the 10% grand opening savings for the duration of the month.