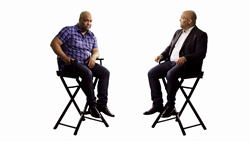 Silence leads many men down a path of anguish, pain, and even suicide.
PHILADELPHIA, PA (PRWEB) November 30, 2016
The OC87 Recovery Diaries website (OC87recoverydiaries.com) is proud to present nationally known mental health public speaking advocate Mike Veny in a series of videos that give voice to the unspoken topic of manhood and mental health.
The anchor of the series, directed by award-winning producer and director Glenn Holsten, is a short film titled "An Interview with My Depression," in which Veny gets the chance to confront the demons that he wrestles with on a daily basis. This honest and entertaining piece imaginatively explores the tensions that can coexist within a person who lives with this illness.
With the aid of a few technical tricks, Veny is able to meet, confront and question his depression – posing questions to himself that may be familiar to anyone who has experienced a similar journey.
Bud Clayman, Editor-in-Chief at OC87 Recovery Diaries applauds Veny's advocacy. "Mike Veny deals courageously with anger and depression even though men like himself are often told that silence is strength. The opposite is true. Silence leads many men down a path of anguish, pain—and even suicide," Clayman notes. "We know that Mike's message will inspire other men—and women to come forward too."
As he looks to the future, Veny offers the following observations about his mental health: "I don't know if my depression, anxiety, or obsessive-compulsive disorder will ever go away. I don't know what mental health challenges I may encounter as I age. One thing that I am sure of, however, is that this journey – the one that I am on — will continue to teach me about life and about myself."
ABOUT OC87 Recovery Diaries
OC87 Recovery Diaries' mission is to bust stigma surrounding mental illness. The website aims to touch as many lives as possible and shed light on the lived experiences of recovery from a mental illness: what matters, what helps, what hurts, and what might be next?
Original content is developed by the OC87 Recovery Diaries production team. In addition, the site commissions stories about mental health recovery journeys from those who have lived experiences and a story to tell.