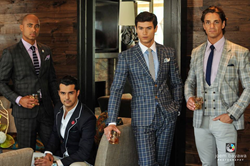 J. Toor: Oh, So Couture! - Perfecting the Custom-Tailored Suit for the Modern Gentleman.- Shane Inman--Chicago NOW
Chicago, IL (PRWEB) April 22, 2014
Chicago's cultural enthusiasts & fashion socialites were in attendance at StyleChicago.com's "The Art of Fashion Show" held on April 18th at the Museum of Broadcast Communications. This fashion soiree was an opportunity to mix and mingle and preview styles of the season, gearing up for StyleChicago.com's two-day shopping event extravaganza, that will incorporate over 30+ top boutiques and specialty shops with clothing, jewelry, accessories, and apparel held under the white tents of Millennium Park. This will be on Saturday May 3rd and Sunday May 4th. StyleChicago.com's shopping event will be produced in conjunction with Department of Cultural Affairs and Special Events (DCASE). Therefore, The Art of Fashion Show served as a prelude of visual and creative inspiration, supporting the vitality of Chicago's local designers, artists and upscale clothing boutiques. The Museum of Broadcast Communications was transformed for the evening as a Mecca of artistic style, beauty, and elegance expressing an appreciation for all the creative talent Chicago has to offer.
After seven successful seasons, "The Art of Fashion Show" was extremely pleased with its addition of showcasing J.Toor, the first time that menswear was featured on StyleChicago.com's signature runway. This is quite the honor with all the various bespoke male clothiers in Chicago's metropolis, and being the fact that J.Toor was the first; they definitely made an impression with their classic styles of suits inspired by English tailoring and other styles that added vibrant splashes of color, setting the tone for spring and summer. Their fall collection also featured Mezlan shoes that made an appearance on the runway to complement the fashionably chic attire. In addition with the incredible production and plethora of luxury sponsors, this show was a perfect backdrop to display the latest in menswear amongst the stylish society of Chicago and having J.Toor on the runway, many of the fashion-forward men of the city viewed a luxury brand, that strives to cater to the modern-day distinguished gentleman of culture & refinement. A standout not only because it was the only Menswear clothing line, J.Toor also piqued the interest of audience members and fashionados alike for the impeccable craft and detail behind every luxury blazer and dapper suit. Due to the involved bespoke process, drafting well-curated garments of clothing, using blends of only the finest of European fabrics----each article of clothing was customized to be one-of-a-kind pieces lending itself to be a timeless ensemble of modern-day art.
"J.Toor is a Chicago-based design studio specializing in fashion-forward bespoke menswear. A design house blending classic English tailoring by taking styling cues and infusing them with modern cuts, rich colors and creative details, and constructed in the United Kingdom. A speakeasy for the sartorial gentleman... harkening back to the nostalgic days when men were effortlessly dapper and attention to the finishing details was standard."
To read more on J.Toor, you can go to http://www.jtoor.com and to find out more about StyleChicago.com's, The Art of Fashion, and other featured designers that showcased, go to http://www.stylechicago.com.
Indie Source makes premium apparel for clothing brands, then ensures those products make a big impact in the market. Learn more about how they support fashion brands with garment development, apparel manufacturing, fashion sales and marketing at http://www.IndieSource.com.