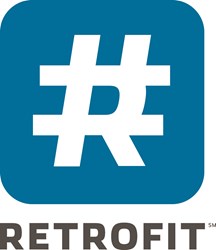 Teaching sustainable behavior change is what differentiates Retrofit in the weight loss industry....Fad diets don't work. Expert weight loss coaching creates a completely personalized path to wellness. --Retrofit Behavior Coach Matt Lawson
Chicago, IL (PRWEB) October 28, 2013
Retrofit, the expert-led, data-driven weight loss program for busy professionals, is featured in the October issue of Men's Health magazine. Weight loss expert Matt Lawson, a Retrofit behavior coach, is featured in the article titled "Melt Your Gut for Good." Lawson uses the analogy of a personal fuel gauge (or Hunger Gauge) as he offers tips for weight loss through visualization.
"Picture a gas gauge in your gut," Lawson tells Men's Health reporter Cindy Kuzma for the cover story on the best tricks and tips for weight loss. "E means you are ravenous and F represents full…"
Hunger awareness is one of the most important concepts that Retrofit wellness experts discuss with new clients. According to Lawson, many individuals have a skewed view of what it means to be hungry. Retrofit weight loss coaches work with clients to teach strategies for what to do when hunger strikes.
"Taking the time to really consider satiety is a skill that has been lost in hustle and bustle of our modern lives," Lawson said. "The Retrofit Hunger Gauge helps individuals better understand the gray area between being empty and full. The Infographic is one of the many tools we use to teach clients how to fuel their bodies."
A person is more likely to make healthy dietary choices if he or she stays in the right Hunger Gauge zone, according to Lawson. More than 90% of Retrofit clients are losing weight.
Retrofit weight loss delivers results with wireless technology and wi-fi scales that collect real-time data. Each client has an expert team of a registered dietitian, exercise physiologist and behavior coach for support and accountability. The wellness teams work with clients to create personalized weight loss plans that focus on mindset, nutrition and exercise.
Katherine L. Milkman, a Wharton professor of operations and information management who specializes in behavioral decision making, has conducted several studies on what compels people to exercise and eat healthy. Her findings help explain the popularity of weight-loss programs and apps like Retrofit.
"We know a lot about how to help people improve a single decision, but it's harder to get people to form good habits," she recently told Knowledge@Wharton in an article "Dieting in the Digital Age". "Our goal has been to find a way to make people enjoy exercise so they keep coming back, and to help people change their eating habits so that they make healthier choices on a regular basis and not just one time."
"Teaching sustainable behavior change is what differentiates Retrofit in the weight loss industry," said Lawson. "Most people know there is no quick fix and fad diets don't work. Expert weight loss coaching creates a completely personalized path to wellness. The journey to health takes time to stick, but it's worth the trip. The Hunger Gauge can assist on the road to long-term success."
About Retrofit
Retrofit, the expert-led, data-driven weight loss program for busy professionals, is designed to deliver lasting results. Its innovative program includes wireless monitoring of a client's weight, activity and sleep, as well as 1-on-1 online video coaching from a registered dietitian, exercise physiologist and behavior coach. Retrofit has raised $10.7 million in venture financing, led by legendary Draper Fisher Jurvetson (DFJ). Retrofit can be found on the Web at RetrofitMe.com and by calling 855-4-RETROFIT. Follow the company on Facebook and Twitter at @retrofitme.