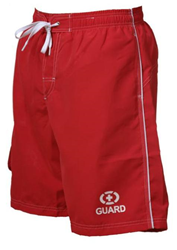 A good quality and highly visible lifeguard swimsuit for on duty.
Los Angeles, CA (PRWEB) December 17, 2014
When out on the beach or in a pool, it is important to know who to go to for help if there is an emergency. Whether there is someone who looks like they are drowning, or someone who is out too far from shore, a lifeguard will have to be notified quickly for the best outcome to happen. For this reason, many lifeguards wear a bright red color uniform, usually with an identifying word on it such as "Guard" or "Lifeguard" on it. With swimsuits being such an important part of a lifeguard's uniform, it is important for them to be vibrant and comfortable. Now Lifeguard Master, a popular lifeguard supply site, has a new line of men's lifeguard swimsuits designed especially for lifeguards.
Lifeguard Master now offers two different styles of men's lifeguard swimsuits. The first is the Men's Circle Design Swim Shorts. This swimsuit features a front drawstring for a custom fit waistband and reinforced stitching for long-lasting comfort. Made of 100 percent polyester, these swim shorts have an interior mesh liner that help prevent clinging when wet. Measuring 17.5 inches long and an 8.5-inch inseam, these shorts also have dual front pockets and a side cargo pocket for easy accessory storage. Its is available in sizes small to 3XL. This men's lifeguard swimsuit is bright red with a circle and cross on the bottom front along with the word "GUARD" spelled out. To view a video of these shorts, please click on: Men's lifeguard swimsuit video
Dakota from Thousand Oaks, California says, "This is exactly what I was looking for! It is better quality and better priced than many of its competitors. It was shipped within 10 hours and I received it the very next day. This is my new shop for guard gear!"
The other style of men's swimsuit is the Lifeguard Board Shorts. Available in navy and bright red, these heavy-duty lifeguard shorts are Triple Stitched Plus reinforced at key stress areas for long lasting shorts and extreme durability. As authentic board shorts, there is no mesh lining needed for the inside. Designed and worn by Hawaii Lifeguards Ocean and Pool, these board shorts are strong, soft, and extremely comfortable. A reinforced beltline and cargo pockets make these shorts even more appealing. On one of the outside pockets, a patch that clearly reads "LIFEGUARD" is visible on a contrasting white background. Approved by USLA lifeguards, this pair of board shorts are the highest quality of lifeguard board shorts available on the market. When ordering, customers can choose the size in inches around the waist, along with either a 19-inch or 22-inch inseam for a custom and comfortable fit.
In the realm of men's lifeguard swimsuits, one basically wants something professional and easily identifiable. These 2 men's lifeguard swimsuits does exactly that. The bright red color and the clean look gives the lifeguard an authority look to coincide with the authority and safety the lifeguard has over his waters.
Lifeguard Master also offers a pair of red lifeguard mesh shorts that are not swim shorts, but a great pair of shorts to wear while performing other lifeguard duties on dry land. The bottom of the short has the word "LIFEGUARD" and a bold cross embroidered in white thread. The top of the shorts has the Champion brand logo on a patch. Available in sizes small to 2XL, these mesh shorts feature a four-needle elastic waistband, side vents, two-needle hem bottom, deep rise inseam, and a full athletic fit. Made of 100 percent polyester, these shorts are incredibly comfortable and offer breathability.
No matter if someone is looking for lifeguard board shorts, swimsuits, or mesh shorts, Lifeguard Master has something for them. With only the highest quality fabric and stitching, Lifeguard Master offers products that last for years. Comfort and style are no problem with this new line of lifeguard shorts as each pair can be ordered for a custom fit or adjusted at the drawstring for optimal comfort.
Lifeguard Master has been in the emergency and life saving industry for many years. Sammy, the owner and founder of Lifeguard Master has been a lifeguard himself for 7 years. He knows the importance have having all the equipment readily available for a first responder, and through the years Lifeguard Master has become a robust lifeguard supply and lifeguard store company, accommodating the anticipating needs of first responders around the country and around the world. Lifeguard Masters determination to excellence and rescue safety has quickly made it a leader in its industry. For more information, please give us a call, send us an e-mail or visit our website. Also to stay updated with the latest news in emergency supplies, please visit our forum where rescue professionals from around the country and world stay connect, and post the latest emergency news at LifeguardsOnline.com.
Sammy
Lifeguard Master
(714) 605-3090
http://www.LifeguardMaster.com