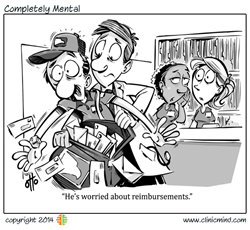 A premature follow up wastes resources while a late follow up may miss the payment feasibility window
Clearwater, Florida (PRWEB) April 12, 2015
ClinicMind adds a new insurance claims workbench feature to its mental health software, to help practice owners automate revenue cycle management and get paid faster and in full. Practice owners using ClinicMind's claims workflow now build a continuous revenue cycle improvement process, including systematic billing monitoring and control. Learn about using the new ClinicMind's claims workbench for payment tracking and follow up at a live webinar here.
According to Todd Archbold, LSW, MBA, and Chief Development Officer at PrairieCare, ClinicMind mental health software is key to disciplined revenue cycle management. "When claims drop, that has a significant impact on our business. The moment it has an effect on our cash flow operationally it has an immediate and definite impact on our patients," says Archbold. "We know that oftentimes some of the disorders that we are dealing with could be volatile and sometimes life threatening if not dealt with. The way we found to be more efficient is to maximize our use of technology; everything from the ClinicMind billing system, to working on more efficient ways to transfer notes, to managing electronic medical records, to e-prescribing."
According to Reuven Lirov, Chief Growth Officer for ClinicMind mental health software, following up on delayed and underpaid claims requires dedicated and trained staff, sophisticated software, and continuously improved revenue cycle management processes. "The selection of the claims for follow up must be timely and efficient. A premature follow up wastes resources while a late follow up may miss the payment feasibility window," says Lirov. "The biller in charge of follow up must see both the big picture of total delayed and underpaid claims and a fine resolution detail about it. The necessary detail must include claim payment status, past follow ups, and all relevant data about that service, such as date of service, patient name, insurance coverage, diagnosis, and procedures. Compiling such a picture manually is time-consuming and frustrating."
ClinicMind's Claims Workbench automates the process of claim selection for follow up and provides both the big billing picture and the fine resolution picture at the same time. It allows the practice owners and their staff to see precisely the claims that require attention on any given day. The software allows them to see exactly where a claim may be getting stuck, what is wrong with a claim, and what to do to fix it. It lets them see a patient's account and all aspects of their care without leaving this workbench. They can also track a single number to know if the have followed up on every claim that required their attention. Learn about using ClinicMind's claim management workbench for payment tracking and follow up here.
About ClinicMind Mental Health Software by Affinity Billing, Inc
ClinicMind by Affinity Billing delivers all-inclusive practice management software for mental health facilities, automating tasks and improving efficiency, cashflow predictability, and compliance. In addition to billing, documentation, and patient scheduling features, ClinicMind serves as a cloud-based platform for a wide range of integrated patient experience management applications, including patient education and marketing. This ONC-certified software is supported by a dedicated coaching staff, who help practice owners and managers address every aspect of practice management -- so at the end of the day, patients gain exceptional care and ClinicMind clients - peace of mind. Visit http://www.clinicmind.com for more information.