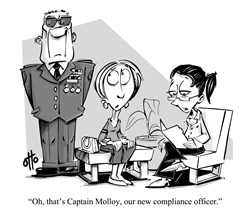 Mental health practice management software helps practice owners stay compliant and grow.
Clearwater, Florida (PRWEB) February 26, 2015
ClinicMind's new short webinar reveals three most effective methods to increase compliance in the office, thus saving psychiatrists and psychologists time and money. The webinar is available online, and can be watched or listened to here at any time.
According to Todd Archbold, Chief Development Officer at PrairieCare, a major mental health services facility in Minnesota, mental health care requires a special compliance effort. "Not only it is a highly regulated industry - and for good reason - but those regulations change," says Archbold. "Every day it seems there are new regulations coming down the pike whether it's changes in HIPAA or physician owned facilities which we are and we need to stay up on those things."
According to Reuven Lirov, Chief Practice Growth Officer at Affinity Billing, a growing number of practices are subjected to audits and penalties because mistakes and oversights are a regular occurrence in most healthcare practices. "Ninety healthcare providers were charged with compliance violations reaching $260 million in billing in May 2014," says Lirov. "Mental health practice owners too struggle to maintain compliant practices against a tangled web of regulations from insurance companies, the government, Medicare, and Medicaid."
Lack of compliance is a serious issue that can lead to substantial loss of revenue and fines. For example, a practice might see 100 patients a day, or approximately 25,000 patients a year. Suppose just 0.4% of those visits (100 visits) are undocumented. Each of those unbilled visits would be marked as a "fail" in the audit, with a resulting penalty of $10,000 per line item -- or $1 million in audit penalties.
"Better compliance liberates mental health practice owners from worrying about fines and audits, and lets them get back to treating patients," says Lirov. "Mental health practice management software helps practice owners stay compliant and grow. Our average clients have seen substantial growth in their practices."
Continuously increasing compliance requirements and lack of time do not excuse mental health practice owner during a practice audit. This short thirty minute webinar teaches the three most important practice management skills to save a mental health office and avoid audit failure penalties. The webinar includes a demonstration of ClinicMind mental health practice management software. It contains automated features to discover the most frequent documentation errors that lead to compliance issues, such as undocumented visits, unsigned notes, and late billing. The software is also browser-based, so it can be changed as the law changes without inconveniencing the practice owner. Click here to sign up for the free webinar and find out more information.
About ClinicMind and Affinity Billing, Inc
ClinicMind by Affinity Billing, Inc. delivers all-inclusive practice management software for mental health facilities, automating tasks and improving efficiency, cashflow predictability, and compliance. In addition to mental health billing software, documentation, and patient scheduling features, ClinicMind serves as a cloud-based platform for a wide range of integrated patient experience management applications, including patient education and marketing. This ONC-certified software is supported by a dedicated coaching staff, who help practice owners and managers address every aspect of practice management -- so at the end of the day, patients gain exceptional care and ClinicMind clients - peace of mind. Visit http://www.clinicmind.com for more information.