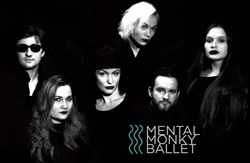 Swedish alt-rock group, Mental Monky Ballet, bridges the vocal and instrumental gap between Blondie and Garbage--and they do it with success all around. The new seven-track EP, Breaking The Law, is a sure hit. - Matthew Forss, Inside World Music
New York, NY (PRWEB) February 20, 2014
The Swedish sextet, Mental Monky Ballet, bring a unique, dreamy, and almost otherworldly sound to their soon-to-be released EP, "Breaking The Law." Vivi Lundström (lead vocals, guitar, songwriting), former touring solo-artist, delivers gripping, raw, and sexy vocals that are subtly, though beautifully, accompanied by harmonies from Anna Wennersten (keyboard, backing vocals) and Linnea Simon (backing vocals). Håkan Englund (drums) provides groovy, driving beats, rhythmically accentuated by Maxa Fon Pashyeva's (bass) thick basslines. Nino Prekratic's (guitar) expressive melodies tie the band's sound together, helping to establish their unique sound.
Mental Monky Ballet intend their album to "challenge the prejudice against mental and personality disorders and point out the need for understanding destructive behavior as just a phase in the personal development," says Lundström. The band also wishes to convey the idea that the world is as much about chaos as it is about harmony. They perfectly accomplish this with their driving and edgy postpunk-influenced sounds being wonderfully blended with melancholic and gentle melodies, with a high level of musicality. Tracks such as "Club 27," "Different," and "Into the Open" are fantastic examples of this musical concoction.
Vivi Lundström and Jan Fretman, co-founders of the band also write and co-produce the band's music at Lundström's Brightlight Music studio, where it is mixed and mastered by Fretman. Exceptions on the EP are "You're More Trouble Than You're Worth" that's written by Stephen Parfit (Rugby UK), "Club 27", drums by Lee Levin (Miami) and "Get Around This", drums by Lee Levin, mixed by David Thoener (Nashville) and mastered by Georgetown Masters (Nashville).
You can learn more about Mental Monky Ballet at http://www.mentalmonkyballet.com.
For more information, images, or to arrange for an interview, please contact Melissa Zeigler at Powderfinger Promotions: melissa(at)powderfingerpromo(dot)com.
Powderfinger Promotions–Independent Radio Promotion and Publicity. Since being founded in October 1994, Powderfinger has come to be regarded as a top indie radio promotion and publicity firm with ties across North America.