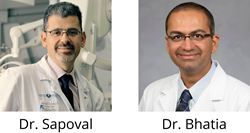 The Mentice software, created from real patients' data, will allow interventional radiologists (IRs) to train for PAE.
GOTHENBURG, SWEDEN (PRWEB) March 01, 2017
Mentice, the endovascular training solutions specialists, today announced the release of the world's first simulation training software module for prostatic artery embolization (PAE).
The software has been developed together with two of the world's leading PAE authorities: Dr. Shivank Bhatia Associate Professor of Interventional Radiology and Urology at University of Miami Hospital, and Dr. Marc Sapoval, Professor of Clinical Radiology at the Hôpital Européen George-Pompidou in Paris.
"The Mentice software, created from real patients' data, will allow interventional radiologists (IRs) to train for PAE, and will help reduce the steep learning curve associated with this technically challenging and complex procedure," says Dr. Bhatia. "Collaborating with Mentice has resulted in a training innovation that I am personally very proud of."
PAE is a novel procedure that was first presented at SIR 2011. A minimally invasive endovascular procedure, PAE has been shown to be safe and efficacious. PAE scores highly in terms of patient satisfaction, and dramatically reduces length of hospital stays compared to transurethral resection of the prostate.
"PAE," comments Dr. Sapoval, "is a demanding procedure performed by experienced IRs. The anatomy is highly variable, the microcatheter and microwire skills required are advanced, and a high degree of technical competence in various areas is essential. Simulation training aims to facilitate the learning curve for performing PAE."
Mentice will formally release and demonstrate the PAE simulation training software at SIR 2017, the Annual Scientific Meeting of the Society of Interventional Radiology, to be held March 4-9 at the Walter E. Washington Convention Center, Washington, D.C.
"Mentice is proud to collaborate with these two world-class experts," says Göran Malmberg, Mentice CEO. "We are offering a unique training environment for experienced physicians. PAE has great potential, it is a challenging procedure with a significant learning process. Realistic, hands-on training is a must—and that's what the new Mentice software module delivers."
Mentice will present and demonstrate the PAE simulation training module at booth 302 March 5-8.
About Mentice
Mentice is a world leader in medical simulation, providing qualified solutions for training, education and assessment opportunities. With a focus on minimally invasive techniques and procedures, Mentice develops simulation systems for training in a safe environment within the fields of endovascular intervention and minimally invasive surgery. The advantages of training with Mentice solutions are well documented enhancing clinical performance, reducing cost, and, in the long term, improving patient safety. For more information please visit http://www.mentice.com.
Mentice AB, Hiral Chavda, Marketing Communications Manager
+46 (0) 31 339 94 94, hiral.chavda(at)mentice.com