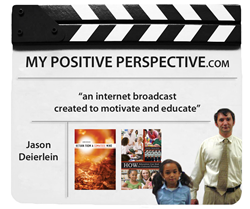 Most of what we do is listen to our studnets
Charleston, SC (PRWEB) March 04, 2014
On March 3, 2014, My Positive Perspective broadcast an episode that featured guest Gordon Cashwell who was joined by host Jason Deierlein. At the start of the episode, Deierlein said, "Mr. Cashwell and myself share a passion and that is speaking to students in our community who may be growing up in a challenging situation at home. When I speak to the students, I share with them the benefits of working hard and not giving up on life. My life is proof that life does improve if you continue to try your best and knowing that you can get yourself out of adverse situations."
Deierlein then turns to Cashwell allowing him to offer his input. Cashwell says, "A lot of times these children have lives through something catastrophic in life and they want to respond by being bitter and depressed. Many of them medicate through drugs and quitting. It's like they are alive but are like the living dead and so we try to build their lives back up.
Deierlein then asks Cashwell how he does this, and Cashwell replies, "Most of it is listening, these youngsters need to talk about what happened to them, and we discuss what occurred in their lives."
My Positive Perspective is a media outlet believing that improvement in our community will be best achieved by focusing on the good things happening in our world today. Having survived a near fatal car accident as a youth, a shift of perception forced one to have a mentality of always concentrating on the brighter sides of things. This was true, and in my book, Return From a Comatose Mind, this belief was put to the test. Appreciation for life was the biggest thing one took away from my brush with death, and it is because of that gives me such a huge desire to be helpful to many. My Positive Perspective is a way of overcoming challenges through positive thinking.