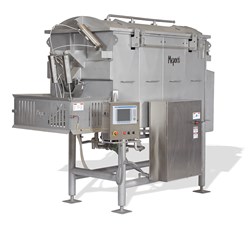 Experts will be on-hand to discuss Mepaco's industry leadership in sanitary finishes and production efficiencies.
Beaver Dam, WI (PRWEB) September 24, 2013
Mepaco®, a well-known provider of food processing equipment is exhibiting at Process Expo on November 3-6 (Booth #N4967). Mepaco® will be highlighting its Model 11-09 Self-Feeding Grinder, the 170 ThermaBlend™ Batch Cooker, the 420v Vacuum Stuffer and its Ergonomic Sanitary Lifts. Experts will be on hand to discuss the Mepaco's® industry leadership in sanitary finishes and production efficiencies that complement their equipment and system offerings.
Mepaco® provides sanitary design equipment to demanding regulatory compliance industries. Food processing equipment products are cleanable to a microbiological level, accessible for inspection and maintenance and validated for industry cleaning and sanitizing protocols.
Mepacos® Grinder series offers increased grind rates, reduced temperature rise and reliable bone collection resulting in improved product quality and yields.
The 170 ThermaBlendTM batch cooker provides up to 50% more heat transfer area than conventional hemispherical jacketed cookers. Mepaco's® unique cooker design produces dramatically reduced cook cycles, while providing superior product integrity and unmatched homogeneity from batch to batch.
The 420v Vacuum Stuffer removes entrapped air from both fine and coarse ground products producing a firmer, denser product. Through consistency and uniformity; slicing yields are improved while color, temperature and texture are maintained.
Mepaco® continues to offer the highest sanitary design in ergonomic lifts with 2500 lb. to 4000 lb. capacity loads. The EZ4000 and EZL2500 lifts are built to USDA requirements. Both are stock units and ready for immediate delivery.
At the show, experts will be standing by to discuss special application questions as well as provide information on Mepaco's® thermal processing solutions, mixers, blenders, cookers, augers, dumpers, sanitary conveyors and material handling systems.
Mepaco® is the food processing equipment group of Apache Stainless Equipment Corporation. Founded in 1975, Apache is made up of five groups: Large Tanks, Small Vessels, Contract Manufacturing, Carbon Steel and Mepaco®. Apache is an employee-owned company and a subsidiary of Dexter Apache Holdings, Inc.