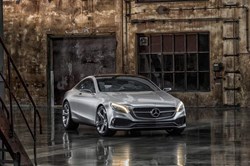 Mercedes-Benz S-Class Coupe Concept
London, England, UK (PRWEB UK) 11 September 2013
With its much anticipated availability in showrooms not until next summer, the Concept S-Class Coupé from Mercedes-Benz will make its debut at the Frankfurt International Auto Show. The innovative, exciting concept car will be on display when the world's largest auto show opens to the public for one week beginning 14 September. The Frankfurt Auto Show is regularly used by automotive manufacturers to offer the first views of concept cars.
Mercedes officials are clearly thrilled with this top of the brand 4-seater coupe. Vice-president of Design at Daimler AG, Gorden Wagener, is quoted as saying, "The Concept S-Class Coupé combines tradition and emotion, and is a symbol for the embodiment of our design style of sensual clarity. The perfected design with self-assured style and the highly exclusive appointments make the coupé a true design icon and an expression of modern luxury." That is high praise and the world is about to see why.
It starts with the Concept S-Class Coupé's jaw dropping good looks. Its traditional long bonnet looks almost pliable and windswept even when motionless. LED headlamps appear as one with the bonnet and leads the eye through its low (1409 mm in height) roofline profile. Frameless doors continue the dramatic look that is polished off with the broad shoulders of the rear end. Accented wheel wells are poised over 21" alloy wheels.
Whilst its dramatic good looks will draw the "oohs and aahs" from crowds in Frankfurt, the Mercedes Concept S-Class Coupe's interior presents an appearance that is at once sculpted, yet futuristic. The top section of the dash board appears to almost float, and flowing lines are predominant throughout its interior. The seats take advantage of these lines and present a sense that one is being invited to be embraced. Technology is unmatched with a 30.7-cm touchscreen and an infotainment system that anticipates almost every need. MoodGrid software makes it possible to listen to the music that fits the mood perfectly, choosing from over 18 million song tracks. The Garmin NaviCore based navigation system offers more convenient orientation and a new modern design with a 3 dimensional view.
Technology reaches new levels in this Concept S-Class Coupé with its intelligent assistance systems and its ability to "see" road conditions ahead. This allows the S-Class to automatically adjust its suspension based on those conditions offering a smoother, safer ride. This Concept S-Class Coupé is powered by a V8 Biturbo engine that delivers an impressive 335 kW (455 hp).
The automotive world is a buzz with this debut of this new Mercedes concept car. It will be available at dealers in the UK next summer. For now, those in Frankfurt will be enjoying this thrilling new car that is gaining attention from everyone who has seen it.
Author: David Newman from Mercedes-Benz Hertfordshire
About Mercedes-Benz Hertfordshire - L & L Automotive
L&L Automotive is the driving force behind a dynamic retail network aimed at enhancing sales and after sales services for the region's existing and prospective Mercedes-Benz, AMG and smart customers.
Encompassing retail outlets in Bishop's Stortford, Hertford and Stevenage, the group is operated by L&L Automotive – a company boasting a lengthy and successful history.
L&L's Mercedes-Benz businesses moved into Hertfordshire in July 2002, when it was selected as one of Daimler UK's key business partners in establishing a revitalised national retail structure.
L&L Automotive is a company registered in England and Wales with company number 4415393.
VAT No. 794 6047 92
Mercedes-Benz of Stevenage : +44(0)1438 737800
Mercedes-Benz of Bishops Stortford : +44(0)1279 719333
Mercedes-Benz of Hertford : +44(0)1992 514444