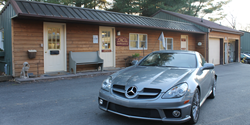 This aluminum structural certification makes ACS the clear choice for Mercedes-Benz repair in the Baltimore area for the foreseeable future.
Baltimore, MD (PRWEB) December 21, 2013
On December 13, 2013, Auto Collision Specialists, LLC was recognized as one of the auto body shops in the Mercedes-Benz Tier 2/Elite Certified Collision Program. Only a selected number of shops throughout the United States have been granted this elite certification for aluminum structural repair.
Mercedes-Benz has stated that Tier 2 certifications will be limited, as needed, per market area. This makes ACS the clear choice for certified aluminum structural repair in the Baltimore area for the foreseeable future.
ACS became the first Mercedes-Benz Certified Collision Center in the Baltimore area when the certification program was initially instated. In the past year, Mercedes-Benz introduced an even more exclusive program for aluminum structural repair, and ACS was again one of the first to apply.
To become a member of this elite group, collision repair facilities must prove, in the course of a rigorous audit, that they possess the equipment and technical training to qualify. Typically, an auto body shop will require multiple audits and numerous corrective actions before being granted certification. ACS was one of the few in the history of the program to achieve Tier 2/Elite status after the first audit, with no corrective actions required.
Aluminum is widely used in the construction of luxury vehicles. Both light-weight and extremely rigid, aluminum allows high-end manufacturers to enhance performance and fuel economy without compromising durability or strength.
Proper repair of aluminum body vehicles requires specialized training and equipment, including specialized tools and welds, which can only be used in a controlled clean room. Aluminum structural repairs should be performed only by certified shops with the proper equipment and technical training.
In addition to their specialized aluminum welding equipment, Auto Collision Specialist's technician Dan Scilipote has been certified for receiving advanced training in Aluminum Structural Welding. Technicians possessing that certification are required to have considerable experience in Gas-Metal Arc (GMA) Welding, and in the repair of complex body structure damage.
This new elite certification comes as a result of ACS's continued investment in the latest equipment and training. ACS utilizes:

Genuine Mercedes-Benz Replacement Parts
Mercedes-Benz approved equipment
A dedicated fixture bench approved by Mercedes-Benz to ensure assembly-line accuracy
ASE, I-Car and Mercedes-Benz certified technicians
Auto Collision Specialists' Tier 2/Elite Certified Collision Certification in a class that is exclusive even amongst Mercedes-Benz Certified Collision Centers. To read more about Auto Collision Specialists' journey to becoming the first Mercedes-Benz certified auto body shop in Baltimore, click here.
For a free estimate from Auto Collision Specialists, call them at (410) 833-5697 or click here to contact them online.