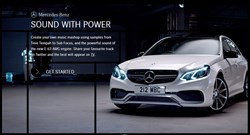 Mercedes-Benz Sound With Power.
London, UK (PRWEB UK) 27 September 2013
Sound with Power will star the explosive new Mercedes E 63 AMG, international music artist Tinie Tempah, and the use of a unique suit loaded with LED lights. The special suit responds to the wearer and shows how they emotionally react to a variety of sounds. The LED suit shows these emotions in a flurry of lights as the wearer is exposed to sounds that range from a baby laughing to the soothing sounds of the ocean to the heart-pounding voice of the new Mercedes E63 AMG.
The music of Tinie Tempah creates a tantalising combination of sight and sound for the senses with use of the rapper's 'Pass Out' track. This all combines for an exciting and intense 'mashup' track. Along with the TV advert a "mashup" website is promoted. This Mercedes Sound With Power website gives viewers the opportunity to construct their own music and video 'mashup'. Once created, users can share their own personal "mashup" using Twitter with the hashtag #soundwithpower. This will give users the chance to have their very own "mashup" actually used on TV during the interactive campaign.
'Sound with Power" will debut during X Factor on 5 October (ITV) with TV highlights including new Homeland on 6 October, and ITV's coverage of the England vs Poland football match on 15 October. It will also appear in cinemas with three anticipated blockbusters including Thor: The Dark World; The Hunger Games: Catching Fire; and The Hobbit: The Desolation of Smaug. The campaign includes innovative digital platforms to showcase the 're-mixing deck', and includes a three month association with Spotify.
As if that wasn't enough, the campaign will further its "Sound with Power" concept with exclusive social media interviews with Mercedes AMG Petronas F1™ driver, Lewis Hamilton, and DTM driver, Gary Paffett. Mercedes is clearly pulling out all the stops in this latest marketing effort and in exposing a younger audience looking for the Mercedes E63 AMG for sale.
Grab a tight hold of your armrest and prepare for "Sound with Power". It is thundering your way.
--- END ---
About Mercedes-Benz Hertfordshire - L & L Automotive
L&L Automotive is the driving force behind a dynamic retail network aimed at enhancing sales and after sales services for the region's existing and prospective Mercedes-Benz, AMG and smart customers.
Encompassing retail outlets in Bishop's Stortford, Hertford and Stevenage, the group is operated by L&L Automotive – a company boasting a lengthy and successful history.
L&L's Mercedes-Benz businesses moved into Hertfordshire in July 2002, when it was selected as one of Daimler UK's key business partners in establishing a revitalised national retail structure.
L&L Automotive. is a company registered in England and Wales with company number 4415393
VAT No. 794 6047 92
Mercedes-Benz of Stevenage : 01438 737800
Mercedes-Benz of Bishops Stortford : 01279 719333
Mercedes-Benz of Hertford : 01992 514444