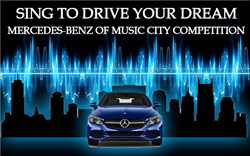 Nashville, Tennessee (PRWEB) June 20, 2017
Mercedes-Benz of Music City newly located in Nashville, Tenn. launches their grand opening with a singing contest that is sure to bring out spectacular talent from the surrounding areas and beyond.
The "Sing to Drive Your Dream" competition can be entered by submitting a video of yourself singing a song of your choice with a theme that ties into "Live the Dream" and share to get votes! Upload the video to YouTube or Vimeo and submit.
Prizes include a 3-year lease on a 2017 Mercedes-Benz C 300 valued at $17,100, 2 tickets to the Tennessee vs. Alabama Football game on October 21, 2017 valued at $250 and the opportunity to sing the national anthem for the University of Alabama at a sporting event.
Living the dream at Mercedes-Benz of Music City is easy. With its arrival to Nashville, the dealership hopes to embrace the musical talent in Nashville and celebrate the Grand Opening of the Mercedes-Benz of Music City. What better way than a promotion of the "Sing to Drive Your Dream" contest to showcase local singers and reward the best of the best with a New Mercedes-Benz!
Mercedes-Benz is known for excellence and quality. This grand opening will fall nothing short of that. "I have only 4 Rules for Success: Show up; pay attention; ask questions; don't quit," General Manager MBOFMC, Edwin Vickery said. He and his team are excited to bring their best to the amazing city of Nashville.
"Live the Dream" is the tag line at Mercedes-Benz of Music City. It is the perfect representation of how the dealership envisions each customer. Mercedes-Benz only offers the finest automobiles in the world alongside unparalleled service. The contest embodies this sentiment, offering a dream to someone who is following their dream and perhaps making two dreams come true at once.
The grand opening will take place at Mercedes-Benz of Music City on July 26, 2017. The contest is currently open and accepting entries until July 15, with voting also running until July 15. The top three finalists with the most votes will be selected to compete live on July 29 at the Mercedes-Benz of Music City dealership. The winner will be selected by guest judges, who are soon to be announced.
For more information and to submit an entry, click here: https://www.mbofmc.com/sing-to-drive-your-dream-contest/ or contact the Mercedes-Benz of Music City at:
734 Envious Lane
Nashville, TN 37217
Phone: 615-724-6262