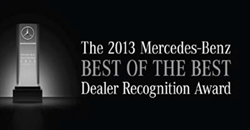 We are honored to receive this coveted franchise award that we earned by implementing a total dealership wide team effort. We look forward to serving you in the future as we represent the finest cars in the world! - Phil Hart, General Sales Manager
Reading, PA (PRWEB) April 29, 2014
Mercedes dealership Tom Masano Inc. has been given a "Best of the Best" Dealership Performance award for 2013. This annual award is given to dealerships who demonstrate superior performance in every aspect of their business. The winners of the Best of the Best Award set a great example for the entire Mercedes-Benz family.
The Best of The Best award recognizes Mercedes-Benz dealers who achieve top performance in all metrics used by Mercedes-Benz to measure their dealerships. These metrics include vehicle sales, service, and parts operations, as well as an enthusiastic commitment to exemplary customer service.
Tom Masano, Inc.'s General Sales Manager, Phil Hart, and Service Director, Brian Williams, along with the entire team would like to thank all valued clients for making 2013 their best year ever!
"We are honored to receive this coveted franchise award that we earned by implementing a total dealership wide team effort," said Hart. "We look forward to serving you in the future as we represent the finest cars in the world! The Star shines bright as we look forward to the continued refinement of our brand's legendary line-up, as well as exciting future models with cutting edge performance, safety and technology!"
Tom Masano Auto Group is family-owned and operated and has been selling and servicing new, used, and certified pre-owned vehicles for the past 60 years. They are located an hour away from Philadelphia in Reading, Pennsylvania. The full service dealership assists customers in their efforts to purchase their next vehicle and provides maintenance for its line of vehicles.
The United States branch of Mercedes-Benz (MBUSA) was founded in 1965. It is responsible for the distribution, marketing, and customer service for all Mercedes-Benz products, including Mercedes-Benz Sprinter Vans, in the United States. The MBUSA is headquartered in Montvale, New Jersey.
To learn more about Tom Masano Inc., interested parties can visit http://www.masano.mercedesdealer.com/ or call 610-777-6587. Their Mercedes dealership is located at 815 Lancaster Avenue (US 222 Business South) Reading, PA 19607.
About Tom Masano Inc.
Tom Masano, Inc. was granted the Mercedes-Benz franchise in December of 1969. They are located in Reading, Pennsylvania. Tom Masano Inc. offers the entire line of new, used, and certified pre-owned Mercedes-Benz vehicles. In 2010 the dealership added the popular Sprinter commercial van line-up offering its legendary clean diesel powered trucks. They pride themselves on the level of service they provide to their customers every day, be it purchasing or servicing your vehicle. They have one of the highest percentages of brand loyal Mercedes-Benz customers in the entire U.S. dealer body.