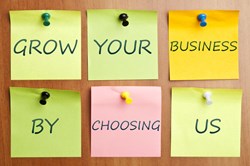 Business Cash Advance Guru Unveils its Expanded Nationwide Merchant Cash Advance Comparison Platform.
Nationwide (PRWEB) September 17, 2013
Small businesses are still feeling the sting of the economic downturn with lackluster sales due to persistent unemployment. Opportunity to expand is stifled by a lack of business capital lending. Companies are finding new sources for funding with unsecured business loan alternative products, made available by tech savvy financing institutions.
Because large corporate banks are keeping billions of dollars in reserves; alternative commercial lenders are making capital available, "Big banks, though improving, still approve less than one in five applications. Banks essentially cut off the flow of small business credit after the financial crisis in 2008. This left the door wide open for other lenders to fill the void for small business owners," Fox Business reports.
Business Cash Advance Guru, a leading alternative commercial lender, is doing more to help small businesses. The company has announced it is expanding its popular merchant cash advance comparison, a tool used to find and compare rates from various lenders.
Stricter lending requirements force small businesses to find unsecured business loans alternative resources. The volume of commercial loans has been down for several years, with business capital lending at its lowest in decades.
The merchant cash advance comparison tool allows small business owners to find financing which best fits their needs. Some companies seek out unsecured business loan alternative after being denied financing by traditional lenders. The merchant cash advance comparison platform gives businesses a look at the capital funding landscape to make educated choices.
What's more, alternative lenders provide funding regardless of credit score and do not require collateral. These lenders fund small businesses in a fraction of the time as well, "Some alternative lenders are able to make instantaneous funding decisions, compared to the weeks and sometimes months it can take a bank to make an approval of a loan. Even a relatively small request for a line of credit can take three weeks," Fox Small Business explains.
Approval rates are 98 percent, and repayment terms are flexible, two more reasons companies are drawn to alternative lenders.
Common alternative lending services that Business Cash Advance Guru.com now offers include:

Business Cash Funds Fast
Merchant Loans
Unsecured Business Loans
Merchant Cash Advances
Small Business Loans
Business Loans
Unsecured Business Loans
Business Loan Alternative
Franchise Business Loans
Medical Business Loans
Retail Business Loans
Restaurant Loans
Poor Credit Business Loans
Business Working Capital
More services are available, in addition to the above list, through the website at: http://www.businesscashadvanceguru.com.
Business Cash Advance Guru expanded nationwide services are now available in the following geographical areas:
Alabama, Alaska, Arizona, Arkansas, California, Colorado, Connecticut, Delaware, District of Columbia, Florida, Georgia, Idaho, Illinois, Indiana, Iowa, Kansas, Kentucky, Louisiana, Maine, Maryland, Massachusetts, Michigan, Minnesota, Mississippi, Missouri, Montana, Nebraska, Nevada, New Hampshire, New Jersey, New Mexico, New York, North Carolina, North Dakota, Ohio, Oklahoma, Oregon, Pennsylvania, Rhode Island, South Carolina, South Dakota, Tennessee, Texas, Utah, Vermont, Virginia, Washington, Washington DC, West Virginia, Wisconsin, and Wyoming.
About Business Cash Advance Guru
Business Cash Advance Guru is a division authorized by TieTechnology, LLC. TieTechnology, LLC, specializes in service based solutions for businesses. Services provided by TieTechnology are merchant credit card processing, business service telecommunications, and web based visibility marketing. The advantages of doing business with TieTechnology are, their commitment to their customer service excellence and the offering of one stop solutions to all business to business service product needs for the customers' convenience. To learn more about their wide assortment of business services, please visit http://www.tietechnology.com, or http://www.businesscashadvanceguru.com.
TieTechnology, LLC
813-856-0223 x150
888-809-9243 x150