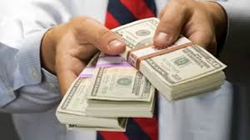 The Best Source for Merchant Cash Advance Loans, Courtesy of BusinessCashAdvanceGuru.Com
Nationwide (PRWEB) April 03, 2014
A growing trend among small businesses is merchant cash advance options. Companies can get an affordable business loan with bad credit and have enough business money with a cash advance to make strategic moves, to make opportunistic buys, and explore new avenues of growth. A business cash advance makes it possible to obtain capital funding without the red tape so common at big banks.
Large corporate banks are putting working capital out of reach for many small businesses across the country and the figures bear it. "The Fed asks the bankers if they are tightening or easing credit standards. In the latest survey, somewhat more said they were easing (9.5 percent for large and small companies, 4.9 percent for small companies). These are relatively small numbers; over the past few years they have ranged from highs of 80 percent difference to lows of -20 percent. (Bankers are clearly more willing to report that they are tightening standards than that they are easing credit standards.) Interest rate spreads are a very different story. ('Spread' is the difference between what the bank charges borrowers and the interest expense the bank incurs getting funds.) Hugely more bankers report decreasing loan spreads: 60 percent for large and medium customers, 46 percent for small business," Forbes magazine reports.
Since the end of the Great Recession, small business lending has been scarce. New federal banking regulations are causing lenders to heavily scrutinize commercial loan applications. Without credit unions lending to small businesses, alternative lenders are filling the void. Combined with a lackluster economic outlook and new insurance requirements, banks aren't lending to small businesses.
"Business Cash Advance Guru makes obtaining financing approval as fast and as simple as completing a credit card application. The goal of providing access to business capital swiftly and easily to small businesses across the country is realized through the alternative lender's release of its proprietary commercial funding system."
Insurance Playing a Large Roll
In the past, banks have required business applicants to undergo a commercial credit check, and disclose all personal and company assets and liabilities. Banks also wanted certified financial documentation of the company's health and growth potential. Now, banks are asking for collateral equal or comparable to the loan amount, as well as a personal guarantee. This is because banks are assessing their risk factoring in new federal employer health care coverage requirements. Banks do not believe that small companies will be able to afford such costs and are turning down loan applications, as a result.
However, alternative lenders are making affordable commercial capital available to businesses across several different industries. These lenders do not require a company credit history review or collateral to qualify for a loan. In addition, alternative lenders are bringing resources together and using technology to cut costs. This results in affordable loan products.
Small businesses do not have to fill out long, tedious applications and can apply online at their convenience. Approvals are given in 24 hours, and funds are paid within three to five days after approval. Companies can qualify for $5,000 to $500,000 based on past and projected credit card sales and future bank deposits. Funds can be used for any purpose and interest rates are competitive.
Payment installments are based on a percentage of the loan and not a fixed dollar amount. What's more, there are tax benefits to these alternative loan products.
BusinessCashAdvanceGuru.com expanded nationwide services are now available in the following geographical areas:
Alabama, Alaska, Arizona, Arkansas, California, Colorado, Connecticut, Delaware, District of Columbia, Florida, Georgia, Idaho, Illinois, Indiana, Iowa, Kansas, Kentucky, Louisiana, Maine, Maryland, Massachusetts, Michigan, Minnesota, Mississippi, Missouri, Montana, Nebraska, Nevada, New Hampshire, New Jersey, New Mexico, New York, North Carolina, North Dakota, Ohio, Oklahoma, Oregon, Pennsylvania, Rhode Island, South Carolina, South Dakota, Tennessee, Texas, Utah, Vermont, Virginia, Washington, Washington DC, West Virginia, Wisconsin, and Wyoming.
About TieTechnology, LLC
TieTechnology specializes in small business service based solutions for companies across several industries. Services include merchant credit card processing, merchant cash advances, business service telecommunications, and web based visibility marketing. The advantage of doing business with us is our commitment to customer service excellence and the ability to offer one stop solutions to all types of business industries for their customers' convenience. To learn more about the wide assortment of business services and specialized divisions, read and visit the following descriptions and links:
About the Division of BusinessCashAdvanceGuru.Com
BusinessCashAdvanceGuru.com is a resource for companies seeking working capital, expansion funding, and other commercial lending instruments. Business Cash Advance Guru offers its clients affordable merchant cash advance options, specializing in assisting small business owners to realize their dreams. We created our merchant cash advance program in 2003, and continue to be an affordable business funding leader in the industry, offering the most flexible payment options with competitive interest rates in the business.
About the Division of CashFundsFast.Com
CashFundsFast.com is a division of TieTechnology, LLC. This merchant cash advance division specializes in helping small business owners obtain working capital needed for continued growth opportunities. As a leader in the industry, our products offer the lowest interest rates and most flexible payment options in the business. Small business owners can apply for commercial funding online and receive approval in just 24 hours for loans between $5,000 and $500,000.
About the Division of LowerInternetCost.Com
LowerInternetCost.com is a telecommunications division of TieTechnology, LLC. Lower Internet Cost.Com provides the highest quality telecommunications and engineering consulting services to telephone companies, internet service providers, cable television companies, and municipalities within the industry at the most competitive rates. Businesses need high speed internet and reliable phone connections to stay ahead of their competitors and fulfill all client expectations. Companies that operate internationally and need robust phone and internet systems such as business VOIP, business satellite, p2p (point to point), VPN (virtual private network) and other commercial grade services. The mission goal for us is to provide affordable and high quality services for business users who want reliable business fixed wireless, business Ethernet, and business phone services. For affordable and reliable business telecommunications services, please visit our services page.
TieTechnology, LLC
813-856-0223 x150
888-809-9243 x150