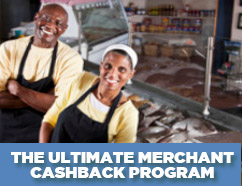 manufacture customer loyalty on demand while adding a new source of revenue to the business
Denver, CO (PRWEB) August 17, 2014
The ultimate merchant cashback program has taken Europe by storm over the last decade with over 250,000 local merchants and growing at an astounding pace. This merchant cashback program is now poised to revolutionize the local business community by empowering business owners with a tool that all but guarantees customer loyalty.
"As a local merchant I've been in the game for over 10+ years now and never before have I seen a program as exciting and lucrative as this one that just makes sense. I tell my friends it's like picking money up off the floor." – Chris White, Merchant Cashback Program Participant
The ultimate merchant cashback program has several impressive and very lucrative benefits for the local merchant.

The merchant gets paid cashback for every purchase one of their customers makes with another participating local merchant anywhere in the world.
The merchant gets paid cashback for every purchase one of their customers makes with another participating merchant online.
The merchant gets access to over $5,000 of free advertising every month to help promote their products and services through the network.
The merchant gets exclusivity within the shopping network as one of only 30% of merchants who are given the privilege to participate. This benefit attracts new customers to the merchants as they have unique value to offer not only their customer base but new customers as well.
"We've talked to hundreds of merchants already and everyone agrees. This is simply a no-brainer for any merchant. There is not an industry or niche we could think of where this opportunity wouldn't completely revolutionize the merchants ability to practically manufacture customer loyalty on demand while adding a new source of revenue to the business." – Joel Trujilo, Merchant Cash Back Program Participant
Customers are raving about this program for benefits that put the control into the shoppers hands.
Shoppers now can carry just one single loyalty program card that works for all participating merchants rather than having to carry dozens of cards. This adds a layer of convenience the shopper has never previously had the benefit of experiencing.
Shoppers always get cashback for every single one of their purchases. Gone are the days of the silly gimmicks where merchants give out rainbows, or stars or whatever the gimmick of the month is to try and make you feel special. The almighty dollar wins in the mind of the shopper 100% of the time and that's exactly what the shopper gets with this merchant cashback program.
Shoppers get access to the merchant cashback loyalty program for free and they even get access to an online portal that tracks all their purchases in real-time so they know exactly the cashback benefits they are receiving. This offers yet another layer of convenience like no other.
"As this merchant cashback program movement continues to take the United States by storm we are just thrilled as local merchants to have the opportunity to provide such a lucrative and amazing benefit to all of our customers. I just wish I would have thought of this myself ten years ago!" – Chris White, Merchant Cashback Program Business Owner
The ultimate merchant cashback program has changed the game and the landscape of local merchant loyalty programs forever and it's done so in a very smart way that puts the power in the hands of the shopper while rewarding the merchant with unheard of benefits. Everybody wins with this one-of-a-kind merchant cash back program. With customer loyalty at a premium in this ultra-competitive marketplace all merchants would be wise to jump on this opportunity as fast as possible before all spots inside the program are taken because once they are gone, they are gone for good.
About Ultimate Merchant Cashback Program
The ultimate merchant cashback program is the biggest and only certified loyalty program in the world that pays its merchants. To learn more about the program visit:
http://www.merchantcashbackprogram.com
or
Check out the video at the link below:
https://www.youtube.com/watch?v=o-6mtAkF8mU