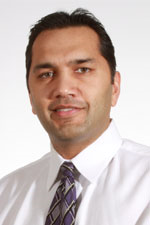 Dr. Dave - Mercy Health System
Crystal Lake, Illinois (PRWEB) January 10, 2015
Dementia affects 50 percent of people over the age of 85. Dr. Amarish Davè, board certified neurologist and medical director of the Mercy Memory Clinics in Crystal Lake and Woodstock, understands the importance of living a healthy lifestyle to limit early onset of Dementia and other memory loss problems as we age.
Dr. Davè released "Memory Loss: Prevent and Treat with Lifestyle Changes," an e-book created to teach lifestyle changes to improve memory, and reduce chances of progressing to Dementia. The book teaches tried and true case studies using food, exercise, medications and other therapies to help reduce chances of Dementia in our older years.
Key chapters include:

Types of memory loss and lifestyle risk factors
Key foods, exercise and nutrients for preservation and treatment
7 step plan to improve your memory and quality of life
To download a copy, visit neurologistcare.com or MercyHealthSystem.org and search keyword "Amarish Davè." For more information about Dr. Davè, visit https://www.facebook.com/neurologistcare.drdave.