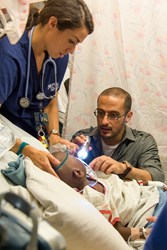 During the Africa Mercy's 10-month stay in the port of Pointe Noire, Republic of the Congo, Mercy Ships plans to provide over 3,300 surgeries for adult and child patients onboard... - Don Stephens, President and Founder of Mercy Ships
Congo-Brazzaville, Africa (PRWEB) September 18, 2013
A Volunteer surgeon from Boston saved a child's life in an urgent and complex surgery performed onboard the world's largest non-governmental hospital ship, the Africa Mercy. Dr. Mark Shrime performed the surgery to remove a 'fist sized' tumor from the throat of a four-year-old boy who was slowly suffocating. It was performed in one of the five operating rooms on the hospital ship with a team of professional medical volunteers from five countries.
Dr. Shrime had met the four-year-old boy named Emmanoel in Pointe Noir, Congo, where the surgeon was volunteering with Mercy Ships. When Emmanoel's family got to the front of the line of over 7300 people who came seeking medical help from Mercy Ships, their son could hardly breathe.
Emmanoel was first diagnosed with malaria over two years ago. After antimalarials did nothing, his parents took him to a hospital in Kinshasa, Congo, where doctors discovered a tumor in Emmanoel's neck. It was slowly suffocating him, but they were unable to provide treatment.
His breathing slowly worsened until he began to lose consciousness up to three times a day. His mother initially brought him to the local hospital every time; eventually, she stopped. The boy's father worked in the port of Pointe Noir and saw the Africa Mercy sail in. He heard that the ship contained a hospital, and was filled with hope for his struggling son. However, patient Selection Day was two long weeks away.
On patient Selection Day, Dr. Shrime met Emmanoel and discovered the child could barely breathe. Emmanoel was immediately scheduled for one of the first surgeries onboard the Africa Mercy in Congo. On September 4th, the four-year-old was operated on to remove, "a mass the size of my fist," said Dr. Shrime. He added, "…a small, multinational army welcomed this child and his compromised airway: two anesthesiologists, one intensive care physician, one anesthetic assistant, two nurse anesthetists, three surgeons, and three OR nurses. We were from the US, the UK, the Netherlands, Switzerland, and Congo, and we were flanked by an entire 'difficult airway' setup, with video laryngoscopy, flexible fiber optic laryngoscopes, and an open tracheotomy tray."
Taking care of this small boy was not just a matter of a couple of hours of struggling against an obstructing tumor and rebuilding his destroyed palate. It was management of the patient from the time he was carried onto the Africa Mercy to his quiet return to his mother, a child finally able to sleep peacefully.
"During the Africa Mercy's 10-month stay in the port of Pointe Noire, Republic of the Congo, Mercy Ships plans to provide over 3,300 surgeries for adult and child patients onboard, to treat more than 20,000 at land-based dental and eye clinics renovated for the purpose, and to provide holistic health care education to over 240 Congolese health care professionals and 830 community leaders," stated Mercy Ships President/Founder Don Stephens, who was on-site for the patient Selection Day.
###
About Mercy Ships: Mercy Ships uses hospital ships to deliver free, world-class health care services, capacity building and sustainable development to those without access in the developing world. Founded in 1978 by Don and Deyon Stephens, Mercy Ships has worked in more than 70 countries providing services valued at more than $1 billion, impacting more than 2.42 million direct beneficiaries. Professionals including surgeons, dentists, nurses, health care trainers, teachers, cooks, seamen, engineers, and agriculturalists donate their time and skills to the effort. Mercy Ships seeks to transform individuals and serve nations one at a time. For more information, click on http://www.mercyships.org.
About Dr. Mark Shrime: Since 2011, Dr. Shrime has been a clinical instructor in otology and laryngology at the Harvard Medical School, and a otolaryngologist at the Massachusetts Eye and Ear Infirmary. In addition, he is pursuing a PhD in health policy at the Harvard Interfaculty Initiative in Health Policy, where he is interested in the study of cost-effective delivery platforms for surgical care in the developing world. He has just returned to Boston from Congo and is available for interviews. For more information, please contact: us.media(at)mercyships(dot)org or call Pauline Rick at 903-939-7000.
Mercy Ships Email: us.media(at)mercyships(dot)org
http://www.mercyships.org