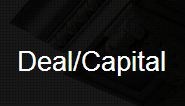 Deal flow is not only picking up, but we expect demand to continue for middle market mergers and acquisitions for the foreseeable future.
Seattle, Washington (PRWEB) September 12, 2013
Deal Capital, a mid-market M&A advisory firm, seeks partners for lead generation and cross-deal pollination for advising both buy and sell-side M&A opportunities. The company is seeking partnerships for a number of reasons including the need for a more scaled, expanded geographic penetration. New partnerships will be formed on a very limited basis and will be dependent on firm-specific experience, industry expertise and geographic specificity.
As part of Deal Capital's expanded partner network, deal makers get exclusive region-specific rights to deal flow within the proprietary network. In addition, M&A partner tombstones will be showcased on the Deal Capital website with appropriate attribution and links to partner companies. Finally, boutique M&A firms will gain access to Deal Capital's network of interested buyers which include institutional & private investors, private equity groups and strategic industry-specific buyers.
"Deal flow is not only picking up but we expect it to continue to do so for a number of reasons," says Deal Capital Senior Director and VP of Marketing Nate Nead. "First, pent-up supply in the middle market is finally beginning to ebb as valuations and multiples improve. Second, the next couple of decades are expected to be some of the best for middle market deals due to the large number of baby boomers that are expected to retire during that period."
Thanks to the company's quality marketing efforts in search, telesales and strategic alliances, the amount of deal flow the company has witnessed in recent months requires a more streamlined approach with regional partners in different cities across the country. Deal Capital maintains a rigorous focus on sourcing deals, utilizing telemarketing, content marketing and national partnerships with some of the nation's most prolific wealth managers, CPAs and tax consultants. "Our approach is to throw out the most broad net possible for sourcing opportunities," says Troy Jenkins, Marketing Manager. "It's a highly effective methodology that has worked to spur growth for both principals and partners."
"We believe our multi-pronged approach to opportunity sourcing is second-to-none in the industry," says Nead. "We've brought together disciplined, ROI-centric traditional and technological marketing campaigns to ensure consistent deal flow and we've done so successfully in when the market was in the doldrums." Partner companies can now take advantage of some of the expert deal procurement resources available to Deal Capital alliance members.
About Deal Capital
For over 25 years, Deal Capital and its partners have tirelessly assisted long-standing business owners and operators in selling businesses and business assets. Based in beautiful Seattle, Washington, Deal Capital provides merger & acquisition advisory through a network of highly-qualified dealmakers across the United States. The company's deal-flow is rapidly approaching the $2 billion for more information on the company and its transactions, please visit http://www.dealcapital.com/.