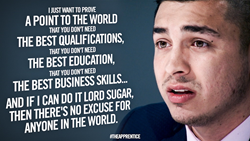 We as humans have dreams, there's no excuses or reasons why we can't turn our dream into a reality. All it takes is self-belief and hard work, my dream is to be a millionaire by the age of 32 and I'd be surprised it that doesn't happen earlier.
(PRWEB UK) 21 December 2016
Since appearing as a candidate on BBC's The Apprentice in 2015, Mergim Butaja has established a hugely successful business which has gone from strength to strength. Using the knowledge he gained from The Apprentice and his existing business expertise, International Business Acquisitions Ltd was formed. Mergim overcame a major stumbling block, setting the business up with virtually no capital and in just a short space of time the business now generates business sales in excess of £1,000,000.
International Business Acquisitions experienced a period of rapid growth over the following months and Mergim currently manages a portfolio of 60 businesses. Within this extensive portfolio Mergim has a number of high value businesses on its books including a Brazilian iron ore mine which is worth over £100,000,000. What's more, the business is backed by a strong team of specialists who have over 30 years experience in mergers and acquisitions.
Mergim hopes to continue growing International Business Acquisitions in 2017, expanding his business portfolio and securing new contracts with large corporate entities. Mergim works closely with Jamie his business partner, who has extensive experience acquired over 12 years in the industry. This knowledge has proved invaluable to International Business Acquisitions and has helped the company grow and succeed.
Not only has Mergim been successful with his own venture, he has used his knowledge to help fellow Apprentice candidate Scott Saunders to invest wisely in his own business, providing expert advice and guidance to ensure his new business was also a success. Mergim helped Scott find investment for his business which provided him with strong foundations on which to build the firm for future growth.
About International Business Acquisitions
Each member of the team at International Business Acquisitions is commercially astute, knowledgeable and knows how to get results. They take the time to really get to know their clients and their business. Selling a business can be a challenging time but International Business Acquisitions has established strong systems and processes to make the transition as seamless as possible. With a vast network of international buyers, International Business Acquisitions have the best resources to facilitate the sale of any business. Visit http://www.ibalimited.com
Mergim hopes to grow International Business Acquisitions even more in the years to come and hopes that 2017 and beyond will bring even greater success.
"We as humans have dreams, there's no excuses or reasons why we can't turn our dream into a reality. All it takes is self-belief and hard work, my dream is to be a millionaire by the age of 32 and I'd be surprised it that doesn't happen earlier. I want to be successful in hope to motivate and inspire people"
For a free business valuation, contact International Business Acquisitions Ltd via email info(at)ibalimited(dot)com or telephone 020 377 19777