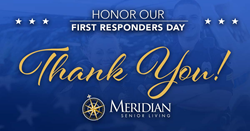 We are thrilled as a national corporation to recognize these crucial and courageous people by celebrating this special day once a year.
BETHESDA, Md. (PRWEB) September 09, 2021
Meridian Senior Living, LLC (Meridian) proudly announces that they will be publicly recognizing all first responders including firefighters, emergency medical technicians, law enforcement officers, and any other first responders by designating Friday, September 10, 2021, as their national Honor Our First Responders Day. About 60 Meridian Senior Living communities across 18 states and the District of Columbia will honor these nearly two million dedicated men and women across the nation, who put their lives at risk by protecting and serving their country and their individual communities. These heroic individuals deserve to be acknowledged, especially in the wake of several recent and devastating events across the country.
"We are proud of our close working relationship with first responders in each of our communities and have partnered locally with them to create safe senior living environments at all Meridian Senior Living communities," shares Kevin Carlin, Principal and Chief Sales Officer of Meridian Senior Living. "We are thrilled as a national corporation to recognize these crucial and courageous people by celebrating this special day once a year. It's also a perfect lead-in to kicking off Assisted Living week, which will be celebrated on September 12th through the 18th."
Each of Meridian's communities work closely with local first responder groups to provide a secure setting for their residents. To honor their service, Meridian communities will be hosting their own events to acknowledge these essential individuals for protecting the nation's senior population and providing assistance as needed. As part of these celebrations, select Meridian communities will be extending special move-in offers to area seniors in an effort to provide them with a secure, comfortable home in their later years. These special community events will be conducted safely by following CDC guidelines.
During the COVID-19 pandemic, Meridian communities remain open and have rooms move-in ready for new residents. Their dedicated staff is committed to the safety and well-being of their residents and are trained and certified to assist in daily support functions such as dressing, bathing, medication management and especially the ability to immediately respond to emergency circumstances. Furthermore, they work tirelessly in keeping their residents engaged with activities and, where allowed by state and local health departments, Meridian communities are implementing visitation, group activities, and communal dining.
To learn more about Meridian Senior Living and how their communities are recognizing these brave men and women for the incredible sacrifices they make daily on everyone's behalf, visit the website: meridiansenior.com or Facebook page:@Meridian Senior Living.
About Meridian Senior Living:
Meridian Senior Living, a privately held company based in Bethesda, Maryland, owns and operates seniors housing communities across the country and provides operational consulting to 24 communities in China. With approximately 60 communities in 18 states and more in development, Meridian is one of the largest seniors housing operators in the U.S. The company prides itself on providing the highest quality care, exceptional lifestyle programming and a distinctive dining experience for its residents. For more information on Meridian Senior Living, visit meridiansenior.com.