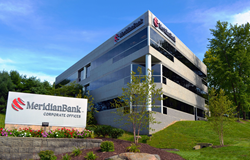 We intend to use the proceeds from this issuance to support our continued growth.
Malvern, PA (PRWEB) September 18, 2014
Meridian Bank announced that it has completed a private placement of $10.0 million in subordinated debt with certain accredited investors. The debt qualifies as Tier II regulatory capital for Meridian, and has a stated maturity of ten years.
"We are pleased to augment our capital structure with a lower cost form of regulatory capital in subordinated debt," said Chris Annas, Chairman and CEO of Meridian Bank. "We intend to use the proceeds from the issuance to support our continued growth." Meridian has recorded strong loan growth in recent years, as its loan portfolio has increased from $349 million at December 31, 2011 to $496 million at June 30, 2014, or an annual growth rate of 15.0% during the period.
Meridian is a full service commercial bank serving the Delaware Valley. Its primary focus is on business banking, offering customers a technology-based suite of tailored financial products along with a dedicated team of experienced banking professionals. In addition to a broad-based commercial lending portfolio, specialties include commercial and consumer real estate financing, residential mortgages, investment and wealth management services and electronic payments processing. Meridian operates 15 offices and employs over 280 team members throughout the Delaware Valley.
Griffin Financial Group, LLC served as Meridian's financial advisor and placement agent for the subordinated debt issuance