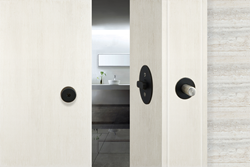 Sacramento, CA (PRWEB) July 31, 2017
Merlot Marketing—a national public relations, branding and social media agency—has been named agency of record for INOX®, an innovative engineering company that designs and manufactures premium decorative hardware and door locks.
"We are so excited to be working with such an inventive and pioneering company," said Debi Hammond, CEO of Merlot ¬Marketing. "INOX has been designing decorative door hardware and locks for more than 25 years and has been involved in many well-known projects from The Ritz Carlton in San Francisco to the Samsung Dubai headquarters."
TWEET THIS: National #publicrelations firm @MerlotMarketing named #agency of record for @INOX_Hardware http://bit.ly/MMBlog_INOXAoR
"We chose Merlot Marketing because they have a proven track record of success in this market," said Jeff Howes, President and CEO of INOX. "Merlot's innovative approach to all-things marketing makes them a valuable agency partner, and we look forward to seeing their expertise in action as we debut our new Barn Door Lock."
In close partnership with INOX, Merlot Marketing will manage all facets of public relations as well as provide ongoing marketing consultation. With a focus on generating brand awareness and supporting product launches, the agency will target national trade publications through custom pitching, trend articles, social media news releases, wire distributions and third party award submissions.
Merlot will assist INOX in rolling out the patent-pending Barn Door Lock—a sophisticated yet discreet integrated locking solution for designers, architects and homeowners to secure the door for added privacy.
The Barn Door Lock's bolt is installed inside the door jamb (instead of the traditional practice of adding a lock on the door itself) and slides securely into the door's strike. The locking mechanism features a one-inch bolt that is easily activated by a thumb turn and can be locked securely from inside the room; a variety of attractive thumb turns are available, including ADA options. The strike, mounted on the door, features a discreet spring-loaded dust cover with a decorative cap on the opposite side of the door. A safety release allows the lock to be disengaged from the outside in case of an emergency.
Six designer finishes provide both aesthetic and practical options that complement any design space, including: Bright Stainless Steel, Satin Stainless Steel, Satin Brass, Satin Chrome, Oil Rubbed Bronze and Graphite Black.
See the release on Merlot Marketing's blog by clicking here.
About Merlot Marketing
For more than 15 years, Merlot Marketing has helped companies rediscover their brand position through its exclusive REDiscover™ process. Headquartered in Northern California, Merlot Marketing is an award-winning, national agency that specializes in brand strategy, public relations (PR.0™), social media, advertising and digital communications. Think RED. Think Passion. Discover Merlot at merlotmarketing.com or call 916-285-9835.
About INOX
INOX is an innovative engineering company that designs and manufactures premium decorative hardware and door locks, including its industry-exclusive Barn Door Lock. For more than 25 years, INOX has been an expert in door hardware design with a proven track record of supplying product for some of the largest projects in North America, South America and around the world. INOX products are distributed worldwide via a network of more than 500 high-end retail designer hardware showrooms and distributors. To learn more about INOX, visit inoxproducts.com.