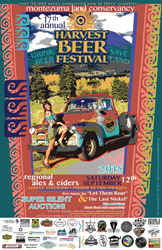 Cortez, CO (PRWEB) August 25, 2015
Mesa Verde Country today announced the date and details for the popular 2015 Harvest Beer Festival, which will be held in Cortez on Saturday, Sept. 12. For more information on this and other events in Mesa Verde Country®, as well as activities, agritourism, archaeological destinations and lodging/dining, call 800-530-2998 or visit http://www.mesaverdecountry.com.

WHAT: 17th Annual Harvest Beer Festival
WHEN: Saturday, Sept. 12 from 4-9 p.m.
WHERE: Parque de Vida – 602 N Mildred Rd., Cortez, Colo.
HOW: The entry fee is $30 at the door, which includes a collector mug and unlimited beer tasting. Tickets for non-drinkers are $20, while kids 15 and under get in for free. Tickets are available for purchase online for $5 off prior to the event.
ABOUT THE EVENT: The 17th Annual Harvest Beer Festival is sponsored by the Montezuma Land Conservancy and supports that group's efforts to conserve open lands in southwest Colorado. The event features freshly tapped regional ales and ciders from southwest Colorado and other regional towns. Additionally, there will be live music by Let Them Roar and The Last Nickel, kid's activities, a super silent auction and food vendors.
About Mesa Verde Country (http://www.mesaverdecountry.com)
Mesa Verde Country is located in southwest Colorado near the entrance to the magnificent Mesa Verde National Park. The nearby towns of Cortez, Dolores, and Mancos provide accommodations, dining, outdoor fun, and visitor services. Named the "Number One Historic Monument in the World" by Conde Nast Traveler and one of the "50 Places of a Lifetime-The World's Greatest Destinations," by National Geographic, Mesa Verde National Park is one of the nation's first World Heritage sites and the largest archaeological preserve in the country. Two national byways pass through Mesa Verde Country. In addition to the National Park, Mesa Verde Country is loaded with other archaeological attractions: Hovenweep National Monument, Canyons of the Ancients National Monument, Ute Mountain Tribal Park, Crow Canyon Archaeological Center, the Anasazi Heritage Center, and the Cortez Cultural Center. Mountain biking enthusiasts have recognized Mesa Verde Country as one of the next great mountain biking destinations.
(end)
Contacts
Gaylene Ore, Ore Communications, 970-531-2336, gaylene@orecommunications.com
Kelly Kirkpatrick, Tourism Director, Mesa Verde Country®, 800-530-2998, kellyk@mesaverdecountry.com