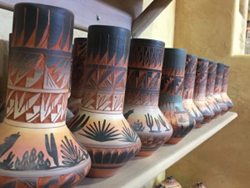 Mesa Verde Country is not only a cultural gift to the United States, it also is chock-full of unique artisan gift ideas that will make recipients feel incredibly special this holiday season.
Cortez, CO (PRWEB) November 03, 2015
Mesa Verde Country is not only a cultural gift to the United States, it also is chock-full of unique artisan gift ideas that will make recipients feel incredibly special this holiday season. Shoppers are invited to spend some time perusing the trading posts, galleries, wineries and sweet shops in the communities of Cortez, Dolores and Mancos. For a gift for the giver, as well, make a weekend getaway of it by calling 800-530-2998 or visiting http://www.mesaverdecountry.com. Or, order online from the comfort of home!

Established in 1961, this trading post has a time-honored tradition of dealing one-on-one with American Indian artists. The gallery features the largest collection of Navajo rugs in the Four Corners region. Additionally, Notah-Dineh selects the finest jewelry from Navajo, Zuni, Hopi and Santo Domingo Pueblo artisans. There is also an outstanding collection of Pueblo, Ute and Navajo pottery.
The Ute Mountain Indian Trading Company & Gallery is the home of Mesa Verde pottery. The Trading Company produces and sells various designs of Native American pottery, as well as selling and consigning Native American jewelry, art and crafts. There is also a wine tasting room that sells the products from Guy Drew Vineyards.
This gallery of Western art features paintings, sculptures and photography by artists of distinction. Goodnight Trail also carries vintage Navajo rugs, custom Western saddles and jewelry.
The tasting room is open daily from 11 a.m. – 5 p.m. at this winery that sits at an elevation of 5,340 feet. Food & Wine named it one of the best 500 wineries in America in 2015, and it had three 90 point wines listed in Wine Enthusiast in 2014. Even the hard-to-shop-for person on your list will appreciate this gift! Consider signing up a special someone for the wine club to receive discounts and advanced access to exclusive events at the winery.
Located at 5,700 feet above sea level, Guy Drew Vineyards are located in McElmo Canyon just southwest of Cortez. Guy Drew and his wife Ruth started the winery in 1998. What began as a hay farm gradually has transformed into one of the most acclaimed Colorado wineries. The tasting room is open every day from 12 – 5 p.m. Wine club members get shipments twice a year, as well as discounts on purchases and availability of limited and new release wines.
Owned and operated by Native American Master Hatter Nate Funmaker, Nathaniel's creates custom hats of the finest quality available anywhere. Using 60-100 year old equipment and maintaining centuries old techniques, Nate's fine fur felt hats are renowned and treasured for their quality and timeless style. Nate's hats are proudly worn by people from all walks of life, including businesspeople, cowboys, ranchers, celebrities and politicians.
Fuel up for a shopping spree with Moose & More's artisan ice cream and chocolates. Sample the brittle, turtles, fudge and truffles, then take some home to give as a hostess gift during the holiday party season.
About Mesa Verde Country (http://www.mesaverdecountry.com)
Mesa Verde Country is located in southwest Colorado near the entrance to the magnificent Mesa Verde National Park. The nearby towns of Cortez, Dolores, and Mancos provide accommodations, dining, outdoor fun and visitor services. Named the "Number One Historic Monument in the World" by Conde Nast Traveler and one of the "50 Places of a Lifetime-The World's Greatest Destinations" by National Geographic, Mesa Verde National Park is one of the nation's first World Heritage sites and the largest archaeological preserve in the country. Two national byways pass through Mesa Verde Country. In addition to the National Park, Mesa Verde Country is loaded with other archaeological attractions: Hovenweep National Monument, Canyons of the Ancients National Monument, Ute Mountain Tribal Park, Crow Canyon Archaeological Center, the Anasazi Heritage Center and the Cortez Cultural Center. Mountain biking enthusiasts have recognized Mesa Verde Country as one of the next great mountain biking destinations.