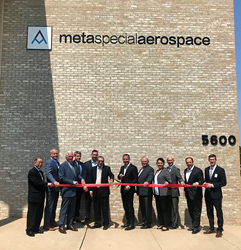 OKLAHOMA CITY, Ok. (PRWEB) August 14, 2018
Meta Special Aerospace (MSA) along with the Greater Oklahoma City Chamber, celebrated the opening of the new MSA Headquarters located at 5600 Philip J. Rhoads Avenue on the Wiley Post Airfield. MSA, a fully integrated and agile enterprise of aerospace and defense companies including Commuter Air Technology (CAT) and Valair Aviation (Valair), announces this office expansion as a result of growing customer demand and an experienced workforce to support it.
"Over the past several years, we have grown our workforce, strengthened our business with acquisitions, and won several industry recognitions to mark our accomplishments," stated Darryl Wilkerson, MSA President. "This expansion will allow us to offer technologically-advanced meeting space for our customers along with additional workspace for our growing staff."
MSA serves as the unifying brand and ownership entity of CAT, Valair and other company affiliates. CAT is a global provider of customized aircraft modifications for commercial and government applications while Valair is an experienced ISR integrator also offering commercial MRO and FBO services. Together these entities have supported key special mission customers with full service integration solutions and systems training both in the U.S. and abroad.
To support the growth in program opportunities, MSA's employee base has increased 47% over the past five years. Most of these staff members are employed in the company's Advanced Programs and Current Operations business units that serve several multi-year government contracts. With Oklahoma serving as major hub for MRO, flight training, defense operations and manufacturing, MSA has been successful in attracting signals intelligence instructors and program pilots across the U.S.
"Oklahoma City has a long history of innovation, exploration and triumph in aviation and aerospace," said Roy Williams, president and CEO of the Greater Oklahoma City Chamber. "This sector continues to show dynamic growth and the decision by MSA to locate their new headquarters here reflects that fact. We welcome Meta Special Aerospace to Oklahoma City and look forward to their contributions to the community as they take their place alongside the many other vibrant aerospace companies that call Oklahoma City home."
In addition to this growth in Oklahoma City, MSA has also expanded into the Wilmington and Fayetteville, North Carolina areas in support of business development, ISR and signals intelligence activities.
About Meta Special Aerospace
Meta Special Aerospace is a fully integrated and agile enterprise of aerospace and defense companies. MSA responds quickly and efficiently to government and commercial operators of mission-optimized aircraft with specialized aircraft performance enhancing products and contracted defense special mission services. MSA offers key services within its core operating markets of Manned Airborne ISR, Special Mission Training and Exercise Support, and Aviation Services. The MSA portfolio of companies includes Commuter Air Technology, Valair Aviation, Mission Transportation and Alpha28.
About Commuter Air Technology
Commuter Air Technology delivers certified aircraft and customized aircraft modifications for commercial and government applications around the globe. Modifications range from flight performance enhancements and high-density passenger systems to cargo conversions and corporate reconfigurations. With nearly 30 years of experience, Commuter Air Technology offers a full line of technical support services, such as crew provision, training, program management, aircraft maintenance, engineering as well as STC process management and Airworthiness certifications. Commuter Air Technology is a Meta Special Aerospace company. Learn more at http://www.commuterair.com.
About Valair Aviation
Valair Aviation is a full-service MRO and FBO providing quality, efficiency, and added value support. With over 70 years of experience, Valair has delivered customized solutions to private, commercial and government customers operating turbine and mid-size corporate jets. Valair has earned a highly respected reputation for its innovative engineering and performance enhancement solutions. In addition to maintenance, repair and overhauls, Valair also specializes in performance and surveillance upgrades, complete interior refurbishing, floor plan modifications, and customized paint. Valair Aviation is a Meta Special Aerospace company. Learn more at http://www.valairaviation.com.