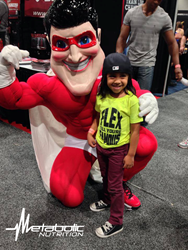 It has been so exciting and fulfilling to see the overwhelmingly positive response to Metabolic Man.
Sunrise, FL (PRWEB) June 03, 2014
Metabolic Man, the larger-than-life mascot of top health supplement company Metabolic Nutrition, has in recent months emerged as a celebrated icon and industry favorite with customers and fans of all ages. With a grand, heroic physique, yet approachable and friendly personality, Metabolic Man is a perfect reflection of Metabolic Nutrition's brand. The company's products are powerfully effective while still practical for everyday consumers.
Following Metabolic Man's appearance at several recent nutrition events including the Europa Games Get Fit & Sports Expos in Orlando and Dallas, Metabolic Nutrition has seen a surge in popularity of the character with visitors, particularly children, lining up to take photos with the gregarious character.
"It has been so exciting and fulfilling to see the overwhelmingly positive response to Metabolic Man over the past few months," said Metabolic Nutrition CEO Jay Cohen. "We are so thrilled that his unique and fun persona has helped introduce Metabolic Nutrition's products and their amazing results to a whole new realm of satisfied customers. He personifies the ability of Metabolic Nutrition to bring out the superhero within all of us. Our goal is to make optimal health fun and accessible to everyone."
A highly-respected and professional health supplement provider, Metabolic Nutrition has quickly grown into an industry leader. Committed to providing high-quality products and superior customer service, the company constantly strives to elevate the standards of the nutrition and health supplement industry.
Metabolic Nutrition's beloved Metabolic Man will be appearing at several events in the upcoming weeks and months. For the latest on Metabolic Man's upcoming appearances and company updates, please visit Metabolic Nutrition on Facebook, Twitter and Instagram.
About Metabolic Nutrition
Metabolic Nutrition's commitment to manufacturing and delivering superior quality, uncompromising results, great taste and high-quality supplements has made it an industry innovator in sports nutrition. For more than 25 years, Metabolic Nutrition has continued to provide top athletes as well as health-minded consumers with the quality and results they demand. For more information, please call 1-888-626-1022 or visit http://www.metabolicnutrition.com or https://www.facebook.com/metabolicnutrition.