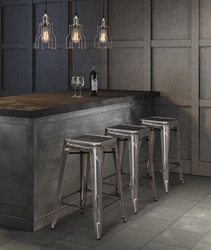 Metal dining chairs with a more traditional design are perfect for a transitional space, since they combine a very contemporary material and finish with an iconic yet simplified traditional silhouette.
(PRWEB) November 11, 2014
HomeThangs.com – the Online Home Improvement Store has made their goal to deliver the right product to the consumer. With that in mind, shopping and home design tips, as well as special product selections are being introduced.
Metal isn't the most common material for a dining room chair, but it's starting to become a very popular one. Metal midcentury modern chairs in particular have started to make their way into a wide variety of dining room styles, from modern to surprisingly traditional. HomeThangs.com has introduced a new guide to using these unique, distinctive chairs to add a contemporary touch to just about any dining room.
While a modern dining room is the most obvious pair for a set of metal chairs, it certainly isn't the only one. Metal chairs can enhance a sleek, restaurant-style feel in an industrial style kitchen, but they also make a nice counterbalance for a space that's simpler and more natural in appearance. Metal chairs can keep unfinished wood elements from feeling overly rustic, and add a clean, polished look to an earthy decor.
Metal dining chairs with a slightly weathered finish can be a great addition to a cottage or farmhouse style kitchen, adding to the simple, rustic, old fashioned feel of the space. That said, even very modern metal chairs can work well in a more traditional dining room, as a sort of counterbalance to rich upholstery and ornate woodwork.
HomeThangs.com's new guide examines these and other unconventional pairings, and looks at how metal chairs can work as a stylish alternative to more traditional wood dining chairs. For more information and to see some great metal chairs in action, check out the full article here.
HomeThangs.com is not only a home improvement superstore, it also provides expert design tips and a comprehensive shopping guide, taking the ideas from professional interior designers, and offering tips to the consumers on how to pick the products to best suit their needs.