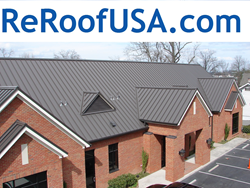 Best Metal Roofing Installation Company in Raleigh, North Carolina
Raleigh, NC (PRWEB) February 09, 2015
Bee Safe Storage is a 63,000 sq. ft. multi level commercial self storage building in Raleigh which will bring a valuable commodity to the local community. Self storage buildings have become increasingly popular over the last 15 years. These buildings must provide a secure place for local residents to be able to have short and long term storage. Click here to visit the website.
Metal roofs are clearly the best choice for commercial buildings because they last the lifetime of the building, hold up well to rain, wind, and snow, & they reflect the sun's rays effectively which lower heating and cooling costs. Metal roofing is also preferred for companies that want to install solar panels for increased efficiency.
Going Green in this day and age is more important than ever. Using metal roof panels in Raleigh, North Carolina on this project makes a lot of sense. Metal is a recycled product that can be recycled over and over again. Choosing to go with this type of installation saves time and money and is doing the right thing for our planet.
Be sure to check out Bee Safe Storage in Raleigh, North Carolina once the roofing project is completed to see what a quality job the experts at ReRoof USA can provide. ReRoof USA is a metal roofing installation contractor serving businesses in Raleigh, NC and all over the Eastern United States with services for new construction, retrofit roof systems, inspections, storm damage repair, and more. For more information call 770-456-1611 or visit ReRoofUSA.com by clicking here.