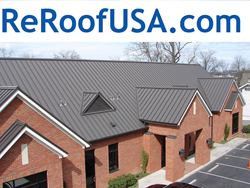 Best Metal Roofing Company in Brunswick GA
Brunswick, GA (PRWEB) March 02, 2015
ReRoof USA completes another standing seam metal roofing project for Southport Storage. This new construction project consisted of a single level building approximately 19,500 square feet in size. ReRoof USA specializes in metal roofs for new construction, storm damage repair & replacement, and retrofits in and around Raleigh, NC. For more info call 770-456-1611 or visit the website at ReRoofUSA.com.
These services included a Standing Seam Roofing system, which are fully interlocking panels. Its unique design forms a weather-tight unit, where no rivets or screws exposed on the surface of the panels, unlike some other types of metal panel roofs. The clean smooth vertical metal roofing lines are attractive, and the value maintains over time.
The metal roofing is very strong and can withstand extreme weather conditions such as wind (up to 120mph), rain, sleet, and snow better than any other conventional roofing materials. It has a durable long life of 40-50 years and low maintenance making it an attractive long-term savings.
Southport Storage is known for being a safe, secure, and convenient self storage facility for people around the Brunswick, Georgia area. This facility features an on-site manager, easy to access units, and controlled keypad access. Anyone looking for storage in this area will be quite pleased with this storage center.
Metal Roofs are perfect for business owners who want to install solar panels on commercial buildings in Brunswick, GA. ReRoof USA is a metal roofing installation contractor serving Brunswick, GA and the entire Eastern United States with services for new construction, retrofit roof systems, inspections, storm damage repair, and much more. For more information call 770-456-1611 or visit the website at ReRoofUSA.com.