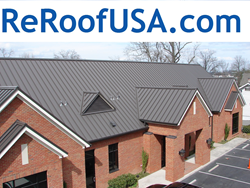 Best Metal Roofing Company in Wilmington North Carolina
Wilmington, NC (PRWEB) February 17, 2015
ReRoof USA is proud to announce the start of another project in Wilmington, NC at Intracoastal Angler located at 6332 Oleander Drive. ReRoof USA specializes in metal roofs for new construction, storm damage repair & replacement, and retrofits in and around Raleigh, NC. For more info call 770-456-1611 or visit the website at http://www.ReRoofUSA.com.
The Intracoastal Angler is a great bait & tackle shop along the coastline providing the best knowledge and equipment for people who want to fish in the Wilmington area. This building will be receiving a standing seam roof with a double pitch which opens the shop up with a high ceiling making everything larger inside.
The specialists at this location have the in depth local knowledge to let fisherman know what's biting and the bait it is biting. This insight is quite valuable for fisherman who want the local insight on the best coastal fishing. Everything from lures to bait, rods and reels, hats and shirts can be found at this great location. Anyone looking to do some sport fishing will appreciate the pros at the Intracoastal Angler.
Metal Roofs are perfect for business owners who want to install solar panels on commercial buildings in Wilmington, NC. ReRoof USA is a metal roofing installation contractor serving Wilmington, NC and the entire Eastern United States with services for new construction, retrofit roof systems, inspections, storm damage repair, and much more. For more information call 770-456-1611 or visit the website at http://www.ReRoofUSA.com.